White House Still Supports More Stimulus Checks
This is my stimulus update for Wednesday, September 2.
CDC's New Eviction Moratorium
The big stimulus news of the day is that yesterday the CDC announced a new, real eviction moratorium.  I created an entire video on this new eviction moratorium right before this one, I covered who's eligible as well as how to take advantage of it.
That is huge news, so I'm not going to elaborate on it in this article, so in this stimulus update I'm going to talk about Mnuchin's testimony in the House yesterday as well as give my daily unemployment update.
Mnuchin's Stimulus Testimony in the House
Let's talk about Mnuchin's testimony, the hearing was almost two and a half hours long, but let me just tell you the key takeaways.
Mnuchin said that the White House is on board with more stimulus, and he said that he is willing to sit down with Pelosi again to negotiate.
However, with respect to Pelosi's latest figure for the next relief bill, $2.2 trillion, Mnuchin said that he does not support $2.2 trillion.
And yes, fifty-three minutes into the hearing Mnuchin was asked about more stimulus checks, here's the clip or read below:
Reporter: Would you agree that stimulus checks and enhanced unemployment insurance benefits passed in CARES, increased GDP and consumer spending, benefiting small businesses?
Mnuchin: Yes. And that's like, we'd like to extend enhanced unemployment. And we'd like to send out more economic impact payments, those are both critical to the economic recovery.
And that's basically what you need to know.  If you've ever watched these hearings, you know that very often they are opportunities for members of Congress from the other party from the individual testifying to just pontificate about everything the other side is doing wrong, in the case yesterday you had a lot of people just talking about all the abuse in the Paycheck Protection Program, and then someone from the individual testifying's own party starts talking about everything they're doing right, so it's a lot of noise in these things.
Mnuchin's Phone Call to Pelosi Yesterday
After Mnuchin's testimony, he did call Nancy Pelosi, however just like their previous phone call a few weeks back after stimulus negotiations failed and like Pelosi's call with Mark Meadows last week, it didn't go well.
Pelosi said in a statement that the phone call "made clear that Democrats and the White House continue to have serious differences understanding the gravity of the situation that America's working families are facing."
Both sides are clearly just holding out here, waiting for the other side to cave.
Congressional Calendar and What's Next
Stepping back to remind you of the big picture, the Senate is back in D.C. this coming Tuesday, the day after Labor Day, and it will likely vote on the Republicans' "skinny" stimulus bill that will go nowhere in the House if it can even pass the Senate.
And beyond that we have the appropriations bills, or at least continuing resolutions, that need to pass next month to avoid a government shutdown, it is my fear that these talks will be mingled with stimulus talks, which obviously complicates Congressional debate and action when not only are we discussing how much money should state and local governments get in the next package, is it $900 billion almost a trillion like the Democrats want, or should it be only $150 billion in new money like Mnuchin has said, so we would be debating not only these issues that we haven't been able to reach agreement on but also how much money the Food and Drug Administration, for example, should get for the next fiscal year.
It could really muddy the waters if both sides see stimulus negotiations as leverage for getting what they want in terms of federal appropriations, so after Labor Day and especially after the House gets back the week of September 14 we should start to see a feisty Congress and hopefully a stimulus package deal being reached.
Daily Unemployment Update
In terms of unemployment, yesterday FEMA approved Illinois, Wisconsin, and South Carolina for grants for $300-a-week.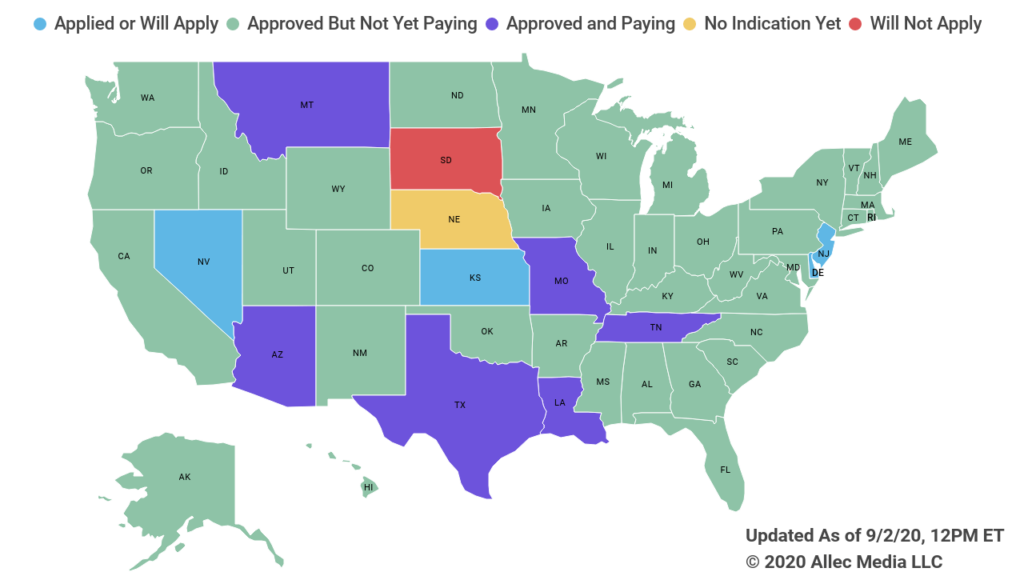 Nevada is still working on its application, leaving only it, Kansas, Delaware, and New Jersey as the only states that have not yet been approved by FEMA, other than of course South Dakota, which has said it will not apply; Nebraska, which isn't sure if it's going to apply; and the District of Columbia which like Nebraska is not sure if it's going to apply.