Trump Sending $200 to 33 Million Seniors (Medicare)
This is my stimulus and news update for Friday, September 25, and we have two big things to talk about today, first is Nancy Pelosi and the Democrats and the second is Donald Trump.  I'm hesitant to say "good news," but I think the things I'm going to talk about today constitute significant news regarding stimulus.
New Stimulus Bill (House Democrats)
Let's start with the Dems.  And let's back up a bit here.
Last Friday, September 18, my stimulus update was titled, "Will Dems Surprise Us Next Week?"
Last week I wanted to see, this week, perhaps a new Democratic stimulus bill because we know Pelosi wants a bill, she has said that she wants the House to stick around until a deal is reached. Then this past Monday rolled around, Mitch McConnell said the Democrats' continuing resolutions proposal, their government funding proposal, was inadequate because it didn't have the farm aid that Republicans wanted.
Then on Tuesday, this past Tuesday, the news broke that Democrats and Republicans agreed on the government funding, the farm aid was in there along with the food assistance, and the House passed the continuing resolutions bill.
Yesterday I told you that Treasury Secretary Steven Mnuchin and Speaker of the House Nancy Pelosi both hinted that stimulus negotiations could resume soon. And later in the day yesterday, Pelosi met with Democratic House leaders, after which she directed her House committee chairs to prepare a new stimulus bill to be potentially voted on next week.
It is thought that this new bill could serve as a talking point if and when stimulus negotiations resume. Pelosi said, "We are still striving for an agreement. If necessary, we can formalize the request by voting on it on the House floor." House Ways and Means Chair Richard Neal of Massachusetts said, "I think the contours are already there. I think it's now about time frame and things like that."
Pelosi estimated the new Democratic bill at approximately $2.4 trillion dollars. She said it would include relief specifically for hard-hit industries like airlines and restaurants. I
'm fairly confident that it will include many of the other items from the HEROES Act such as stimulus checks, enhanced unemployment, and state and local funding.
Now, at $2.4 trillion dollars, is this really something that Republicans would go for as-is? No.
The top Republican in the House, Kevin McCarthy, said that the Democrats crafting their own new bill "shows again that [Pelosi's] not serious about getting a COVID relief bill, that she's just playing politics." So I think above all, this Democratic bill obviously serves the purpose of allowing House Democrats to go back home before the election and say, "Look, we tried in May with the HEROES Act, and we tried again in September with this bill, but the Republicans just wouldn't have it." Whether this new bill will be useful in negotiations with the White House remains to be seen.
Trump's $200 Cards for Seniors (Prescription)
Yesterday, President Donald Trump said that 33 million Medicare beneficiaries will soon receive a $200 card in the mail to pay for prescription drugs.  He said the cards will be mailed out in the coming weeks.  Now, many of you along with me here on the channel, we have been thinking that Trump will very well attempt to send out money and assistance to people himself in the weeks leading up to the election without congressional approval.
Now, these $200 cards are obviously not $1200 stimulus checks, but they're in the same vein, are they not?  In the weeks leading up to the election, with Congress stalling on stimulus, Trump wants to take matters into his own hands and look like a hero here.
Trump: The America First Healthcare Plan includes another historic provision to benefit our great seniors.  Under my plan 33 million Medicare beneficiaries will soon receive a card in the mail containing $200 that they can use to help pay for prescription drugs.  Nobody's seen this before.  These cards are incredible.  The cards will be mailed out in coming weeks.  I will always take care of our wonderful senior citizens.  Joe Biden won't be doing this.
"Nobody's seen this before," Trump said, and he went on to say, "These cards are incredible.  The cards will be mailed out in coming weeks.  I will always take care of our wonderful senior citizens.  Joe Biden won't be doing this."
Well, there you have it, folks.  He made it plain as day, "Joe Biden won't be doing this," this is clearly all about the election targeting one of Trump's strongest demographics.  And you know he's going to be talking this up in the debate with Biden next Tuesday.
Now, just using Trump's very rough numbers, 33 million recipients times $200 per card is about $6.6 billion dollars.  Where did this idea come from?
Well, according to a White House official, Mark Meadows' office is supposedly behind it and it's a, and I quote, "last-minute thing that is still being worked out."
But where is this $6.6 billion coming from?  Where is this money coming from?
Well, it's not quite the clearest thing, but what you need to know is that two Sundays ago, Trump issued an executive order on lowering drug prices by putting America first.  The gist of that executive order is that Americans subsidize drug prices around the world.
How, you ask?  Well, because other countries' governments regulate the price of drugs by negotiating with the manufacturers to secure bargain prices, while the United States government, while it is the largest payer for prescription drugs in the world, has historically paid much higher prices than other developed nations for the exact same drugs, and this is even taking into account Medicare Part B in which a portion of the cost is covered by Medicare recipients themselves.
So Trump's executive order directed Medicare to not pay more for Medicare Part B prescription drugs than the lowest price, adjusted for volume and the size of the economies between the two countries, that the drug manufacturer sells in another OECD country with a comparable per-capita GDP to the United States.  There are 37 OECD countries, consisting of most of the world's developed nations, including the United States.
So basically the White House is saying Medicare is going to start paying less money for drugs, and out of that savings, we'll send people these $200 cards.  But this executive order was issued twelve days ago, there's no savings yet, so with these $200 cards, it appears that Trump is sending out money he doesn't have, he wants to send money in the next few weeks out of potential savings that don't even exist yet.
This is spectacular, folks, I mean here we have Trump really doing his darndest a little bit before the election, to provide his own stimulus of sorts.  And, like we've said on the channel, what can the Democrats do even if they have a good legal case to stop him?
What are they going to do, say, "Nope, nope, nope, we don't want folks on Medicare to get $200 from the government to pay for prescription drugs, we just can't have that, sorry."  If they did that, they might win the battle but lose the war, right, hands are tied.
And by the way, the New York Times reported based on statements made by White House Chief of Staff Mark Meadows yesterday on CNN that Meadows suggested that pharmaceutical manufacturers would still pay for the cards, but I don't think that's what he meant, here's the clip.
Mark Meadows: I can tell you the big news coming out of this is 33 million American seniors, the people that are perhaps tuned in right now, those 33 million American seniors in the month of October will start getting a discount card for $200 to help with copay.  It's the first time that money came from big pharma, back from their pockets, in the pockets of American seniors.  And so that's something really to celebrate, so if they have any question if he's for real, wait until that card is received in the mail.
I think that when Meadows said this is the first time that money came from big pharma back from their pockets into the pockets of American seniors, all he meant is that this would have been money paid by the government to big pharma companies at inflated prices on prescription drugs, but instead of that happening, instead of that money going to big pharma, it's going to the people, older Americans on Medicare.  I don't think that by his statement here Meadows was suggesting that the funding would come directly from pharmaceutical companies.
Now, this is pure speculation, but maybe, and this is just my imagination running wild, maybe Trump is testing the waters with these $200 cards to see how his opponents react as a test case for sending $1200 stimulus checks.
Right, maybe?
That's just my speculation, crazy speculation.
Unemployment Update
In South Carolina people are seeing payments show up in their online unemployment portal, some people are seeing the payment method "check."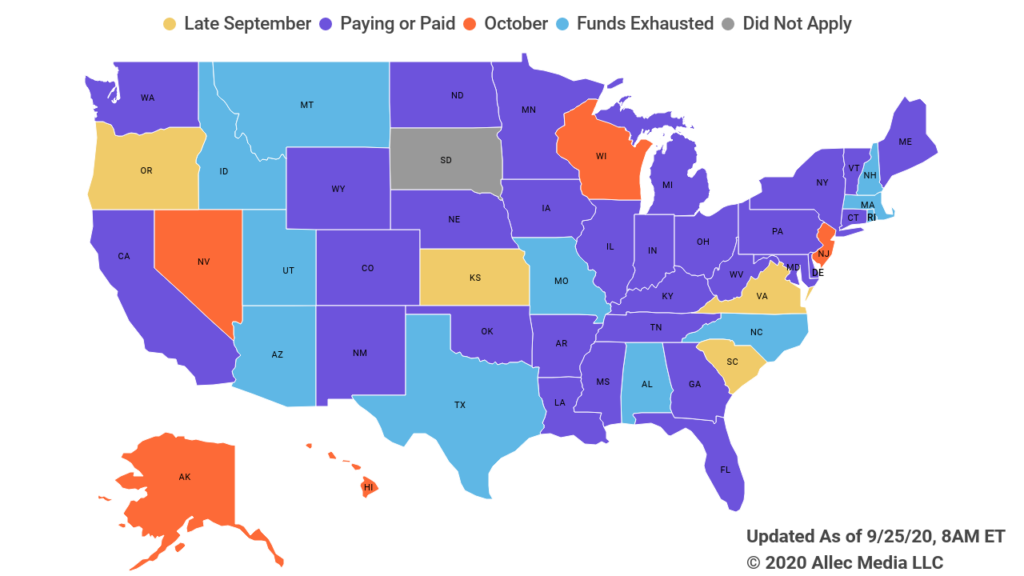 Vermont, I've seen reports of recipients receiving a nine hundred dollar check, so Vermont is now dark purple on my map, that's three weeks' worth of LWA, with hopefully the additional weeks coming, but you know, FEMA's pot is running dry.