Mnuchin, Pelosi Claim Stimulus Discussions Will Resume
This is my stimulus update for Thursday, September 24.
Remember to Vote!
As though the political energy couldn't be more charged right now, we have, in addition to a worldwide pandemic, Supreme Court justice confirmation hearings coming up soon, a general public dissatisfied with our justice stimulus, no Congressional stimulus in sight, and on top of all that, there are genuine fears that there may not be a peaceful transfer of power after the election.
Speaking of the election, it is 40 days away, I encourage any of you who are not yet registered to vote at your current address to do so as soon as possible.  In many states this can be done online, however I do know for example here in California the deadline to register online for this election is October Nineteenth, so a little bit earlier than the actual election, while for in-person registration it's all the way up to election day, those are just the rules for California, don't know about your state, anyway go to vote.gov, select your state from the dropdown, and it will tell you exactly how you can get registered to vote in your state.
Mnuchin and Powell Testifying Before the Senate
Two days ago as I told you yesterday Treasury Secretary Mnuchin and Fed Chairman Jerome Powell testified before the House Financial Services Committee on the government's economic response to our current crisis.
Well, today they were testifying before the Senate Banking Committee. A few takeaways from their testimony, Mnuchin expects strong third quarter growth, particularly in manufacturing, housing, and retail.
He admitted that some businesses and groups need more relief and that he and Trump remain committed to providing support for American workers and business and they continue to work with Congress on a bipartisan basis to pass a Phase Four relief package.  He said the administration is ready to reach a bipartisan agreement and he encouraged the Senate to pass the continuing resolutions.
Stimulus Talks Resuming per Mnuchin and Pelosi
And here's the good news, or somewhat good news, Mnuchin did say this morning, "I've probably spoken to Speaker Pelosi fifteen or twenty times in the last few days on the CR [that's the continuing resolutions to keep the government funded, bill passed the House, should pass the Senate this week], and we've agreed to continue to have discussions about the CARES Act."
This morning Speaker Pelosi also told reporters that "we'll be hopefully soon to the table with them," referring to the White House negotiators.  Don't want to get your hopes up, that's why I didn't put a big headline, "STIMULUS TALKS RESUME" or something like that, because by this point I think we're all pretty jaded by empty words.
When "good news" comes out of the mouth of a politician, you have to be cynical. But, just taking these words at face value, it's a good sign.
Of course, this pair has previously attempted to resume stimulus talks to no avail, if you remember last month and earlier this month you'd have Pelosi say, "It's clear after our 2-second phone call that the White House is not on board with helping the American people," and then Mnuchin would say, "The Democrats are being unreasonable, and they just want a top line without any details."  But we'll see if this time it's different, no promises, but curiosity is piqued.
First Stimulus Questions in Hearing
Back to the hearing, at least as far as I watched, there weren't many questions about stimulus checks.  Senator Doug Jones asked if the October 15 deadline for non-filers to use the Non-Filers Tool could be pushed back to December, Mnuchin said he would look into it.
Mnuchin was also asked about stimulus checks for homeless individuals, if Treasury has any data on how many homeless people received their check, how many didn't, Mnuchin said he would follow up on that question as well.
So mostly question pertaining to first stimulus payment, nothing really pertaining to second stimulus.  Committee Chair Mike Crapo said there is also a very significant amount of agreement in specific areas where he believes if the Senate were to pick up those specific areas where there is agreement progress could be made.  So basically we have a lot of words from politicians but no action to back it up.
Mark Cuban Stimulus Idea
But Mark Cuban, for one, is renewing his call for one thousand dollar stimulus checks every two weeks for two months.  I went over his proposal four months ago.
As for unemployment, initial jobless claims increased slightly to 870,000 from 866,000 for the prior week, and FEMA only has about $3 billion left in the $44 billion pot for the unemployment boost under Trump's memorandum.
Unemployment Update
And on the topic of unemployment, my home state of California, which is beautiful when it's not on fire, but terribly mismanaged in so many ways, it stopped accepting new applications due to just terrible management of the unemployment system, fraudulent claims, you name it.
My own business, Allec Media LLC, has received a number of fraudulent unemployment claims from individuals that I have never heard of.  Anyway, things are pretty bad, I know most of my viewers don't live in California, so I'm not going to dwell on this topic.
Washington State ESD tweeted yesterday, "The $300 benefit payments are on their way! Reminder that all payments may take a little longer this week and you may experience site slowdowns due to the volume we're processing."  I'm taking them at their word, so I've changed Washington State's color on my map to dark purple.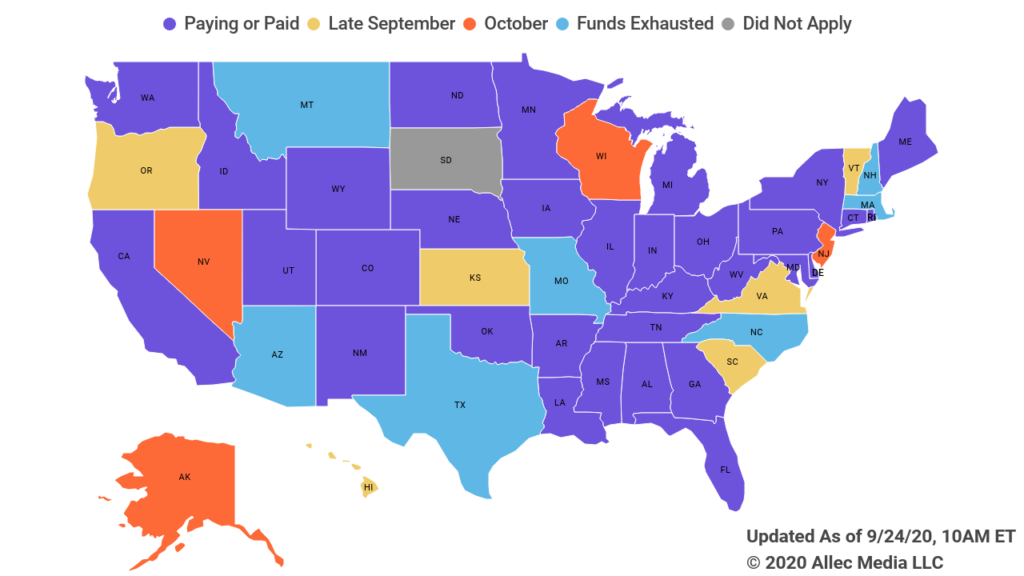 Oregon reiterated yesterday, "We are on track to distribute LWA benefits by the end of September and Waiting Week payments by the end of November. For more information on the agency's timelines, watch this clip from yesterday's hearing at the legislature."  So I'm keeping them yellow on my map for late September.
Virginia, no updates, website still says by September 13, so they remain yellow on my map.  South Carolina, unfortunately, seems to still be giving some people trouble, they said yesterday, "We are working to quickly implement our LWA benefit capability which will include an enhanced identity validation process.  While we are making these changes, some claimants will experience unusual responses from the web portal system".
I'm still hoping by the end of the week for payments there, but as those of you in South Carolina know, they have pushed back the date a couple times already.