Steve and Nancy Agree on Funding, But Where's the Stimulus?
This is my stimulus update for Wednesday, September 23.  So as I've discussed yesterday and the day before, earlier this week, the prospects of an easy battle regarding a government funding bill looked bleak.
Good News on Government Funding (Continuing Resolutions)
But yesterday, seemingly out of the blue, Steve and Nancy — and no, I'm not talking about our favorite high school sweethearts from Hawkins, Indiana; I am of course referring to Treasury Secretary Steven T. Mnuchin and Speaker of the House Nancy Pelosi — Steve and Nancy agreed on a bill that would fund the government through December 11, it included the elements that Mnuchin and Pelosi reportedly agreed to last week, the farm-aid funds and the new food assistance for children and families, this bipartisan bill passed the House three hundred and 59 to 57, and the Senate is expected to take up the bill this week.  And this morning we have Treasury Secretary Mnuchin giving a warm, thank you tweet to Pelosi and top House Republican Kevin McCarthy, saying, "Thank you Speaker Pelosi and GOP Leader [that's Kevin McCarthy] for their leadership in passing a government funding deal with overwhelming bipartisan support.
The government will remain open and working for the American people." Of course, these talks will pick up again after the election.
But What About Stimulus?
People promptly respond to Mnuchin with tweets like, "Dude where is our stimulus!" and, "Ya can we get on that second round of stimulus?  I'm barely staying alive."
So, the question remains, Nancy, Steve, you all seem to be real buddy-buddy and have been able to work something out for government funding, but what about stimulus?  Frankly, mum has been the word.
Pelosi did put out a Dear Colleague letter today praising the bipartisan government funding bill and saying, "Our unity served us well yesterday.  Our unity will again serve us well in the ongoing COVID-19 relief efforts.  Updates will be ongoing."
Eyes on the House Right Now
Our eyes are on the House right now, the Senate will be busy with Justice Ginsburg's replacement, with Trump confirming that he will name his nominee this Saturday at 5:00 P.M. Eastern Time, so the House is where the action is going to be, they are scheduled to leave D.C. next Friday until after the election, but as I've said multiple, multiple times, do not forget what Nancy Pelosi said early last week: "We have to stay here until we have a bill."
If Congress Doesn't Reach a Stimulus Bill
If Congress doesn't reach a bill, I believe, and many of you believe as well, as you indicated in the poll that was on the channel recently, that it wouldn't be beyond President Donald Trump to attempt more presidential directives to potentially send out stimulus checks himself, possibly without congressional approval, potential legal challenges notwithstanding, but seriously, who would bring up a legal challenge to the president sending out money to the people?
Look, it's a long shot, I'm not saying it's going to happen, but unless we have some real big changes in the next couple weeks with respect to stimulus negotiations, which have been mum for weeks now, action from Trump might be our last hope, Hail Mary, eleventh hour chance at a second round of stimulus checks.
Mnuchin and Powell Testimony at Congressional Hearing
Yesterday, Treasury Secretary Steven Mnuchin and Federal Reserve Chair Jerome Powell testified before the House Financial Services Committee hearing on the government's response to help the economy during the COVID-19 crisis.  It was pretty much more of the same that we've heard in previous hearings, both men agreed that more stimulus is needed, Mnuchin said that "a targeted package is still needed" and that the White House wants to do a deal.
Mnuchin brought up, as he has before, kids and jobs and possibly extending the Paycheck Protection Program.  Powell said, "The recovery will go faster if we have both tools [meaning both monetary from the Fed and fiscal stimulus from Congress] continuing to work together."
Economists testified at the Capitol yesterday as well that containing the coronavirus is key to economic recovery.  I think that's fairly obvious.
COVID-19 Has Been Heavily Politicized
I do want to say one thing about coronavirus and the media, and that is that COVID-19 has been incredibly politicized by both Democrats and Republicans, and you can see this in the media plain as the nose in front of your face.
For example, it was widely reported a few weeks ago that the Sturgis Motorcycle Rally may have caused 250,000 cases of COVID-19.
Actual number of cases linked to this rally at this time?  A few hundred.
Some of those few hundred could become superspreaders, I'm not discounting the fact that COVID-19 cases were likely contracted and spread by this gathering of hundreds of thousands of people.
But 250,000?  Come on.
Whenever you see "may" or "might" in a shocking headline, don't gloss pass it and just read the headline and assume it's true, just assume it's complete B.S. with a political agenda until you've actually read the thing and researched it for yourself, I bring this up because I have friends that asked me a couple weeks ago, "Did you hear about that motorcycle rally in South Dakota that caused 250,000 COVID-19 cases?"
And I was like, "What?"  Come to find out, truth is the media went crazy with this non-peer-reviewed study and 250,000 case headline, and it was complete B.S.
Unfortunately both sides have politicized COVID-19, and that's terribly unfortunate, and it really shows sometimes in media outlets from CNN to something like Marketwatch, that's as political as I'm going to get about this topic.
Unemployment Update (Lost Wages Assistance)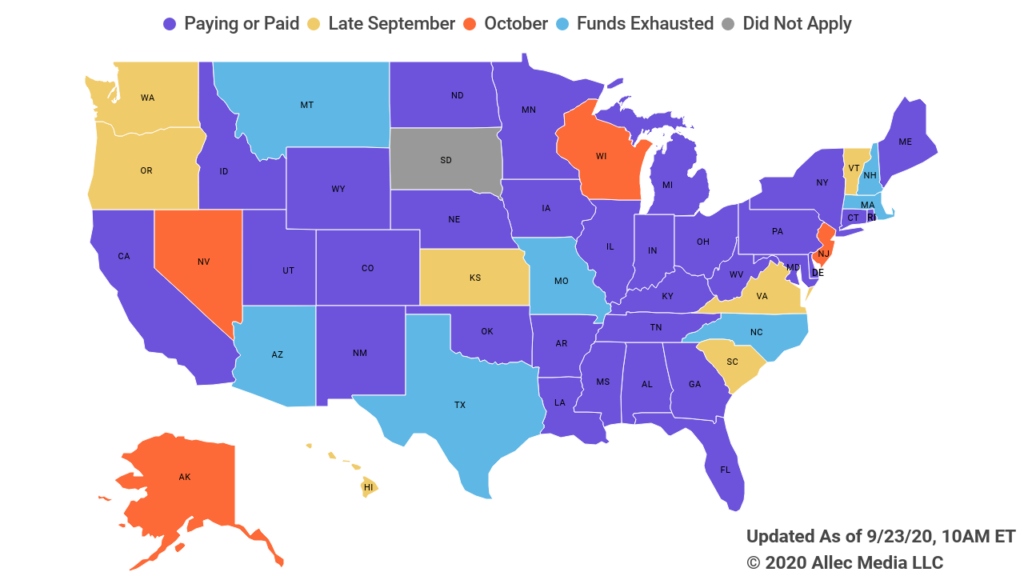 Oklahoma, some people got paid, others didn't, this morning OESC tweeted, "We are aware that there are concerns that those who are eligible for and should have received LWA back pay may not have gotten their benefits. We know this is concerning and want to reiterate that this is a top priority for our team.  OESC is actively looking into this further and our team is working on reviewing those who did not receive benefits to ensure everyone who is eligible for the program gets their back pay. We will provide an additional update as soon as more information is available."
Somebody asked, "Hey, do we need to call you if we didn't get it?" OESC responded, "No, you don't need to call."
New York tweeted yesterday that the second and final round of Lost Wages Assistance payments will be distributed over a number of days this week, many people got half the benefit in New York, but many are still waiting on the other half.  I'm seeing reports of Washington, D.C. paying.
Washington State payments should have already started processing, hopefully see them this week.  South Carolina, which has delayed and pushed back the date over and over again, sent out an email saying they should be initiating payments by the end of the week.