Will New Data Change Pelosi's Mind?
This is my stimulus and news update for Tuesday, September 22.
Quick Supreme Court Update
Before I get into it, real quick, Republican Senator Mitch Romney — who many thought would break with the Republican party along with Senators Susan Collins and Lisa Murkowski — has announced that he supports holding a vote for Justice Ginsburg's replacement, so that appears to give Mitch McConnell enough votes to proceed with a nomination for Trump's pick that the president should announce this week.
Will This New Data Change Pelosi's Mind (State Tax Revenues)?
Yesterday I said, "Hey, with Ginsburg's passing, with new government funding drama, it looks like stimulus is on the back burner unfortunately."  But today I have a little bit of good news for you, not so much with stimulus timing unfortunately, but rather with a piece of news that I think could possibly bring Democrats and Republicans closer together on a stimulus package.
What am I referring to?  Well, to preface this, here's a clip from my August 31 update.
So, in the span of almost exactly a month, we've reduced a $2.4 trillion difference between the parties for the next stimulus bill by $1.5 trillion to $900 billion. And that $900 billion sounds a lot like the nearly $1 trillion that the Democrats wanted in the HEROES Act for state and local government funding, I suspect that this remains the major point of contention in these negotiations, with perhaps unemployment a distant second. So what if in September states do are projecting a quicker recovery?  What if that sales tax revenue does start going up because slowly but surely people are going back to businesses, going out, of course practicing social distancing and all that, what if these states' projections are better than they were a few months ago when the Democrats were drafting the HEROES Act?
So almost a month ago I was hopeful that perhaps state and local tax revenues would be higher than previously projected, and perhaps this could lead to Democrats and Republicans getting closer on a stimulus deal.  And guess what?  It looks like state revenues at least are doing better or at least less worse than people thought may have been the case a few months ago.
Let me just read you from this article in The Washington Post.
"State tax revenues in some parts of the U.S. are rebounding as the economy emerges from the coronavirus lockdown, a positive sign for governors and mayors who had been bracing for the biggest fiscal crisis in decades.  August sales-tax receipts in hard-hit New Jersey rose 3% from a year earlier and non-partisan legislative analysts are forecasting that revenue will exceed Governor Phil Murphy's projections by $1.4 billion dollars for the fiscal year.  California's revenue is exceeding forecasts, Georgia's collections are on the rise and Ohio's Cuyahoga County — home to Cleveland — dodged almost all of the devastating blow it once predicted. The figures are an early sign that the worst economic collapse since World War II may not decimate governments' revenues as badly as some feared, potentially reducing the scale of budget cuts and tax increases that would exert a drag on the nation's recovery."
This article also tempers the excitement by pointing out that this is just the sales tax figures, there could be an income hit that wouldn't be felt until a quarter or two after the fact since income tax revenues general lag due to the nature of tax deadlines, but overall this is good news.
Even so some experts think that the income tax hit will not be as bad as feared because job losses during the pandemic disproportionately affected lower-wage workers, while higher-paid workers could often work from home and make the same amount of money and not have their income affected, so they'll still pay their tens of thousands of dollars in state income taxes in states like California, where I live.
So this recession is different than the Great Recession, the mortgage crisis, which hit a lot of folks across the board, including highly-compensated folks in the real estate industry, the finance industry, etc.
So don't get me wrong, state tax revenues are still down, but not as down as a lot of people thought a few months ago.  Obviously this is good news in and of itself.
But for stimulus especially, this is also good news.
What's the major point of contention between Democrats and Republicans with respect to another stimulus bill?  State and local funding.
Democrats refer, time and time again, to the HEROES Act, which calls for over $900 billion, almost $1 trillion dollars, in assistance to state and local governments.  Now, when was the HEROES Act drafted?
Late April, early May, passed the House on May Fifteenth.  And back then, I think a lot of us were fearing the worst with this pandemic, and yes, I know what's going on in Europe with the case counts, a lot of places thinking, "Ah, are we going to shut down again," you probably heard that Boris Johnson, British Prime Minister, has now ordered pubs to close early, so I'm not saying that it's all smooth sailing from here, but this report is a good sign.
And maybe, just maybe, Dems will be willing to reduce their offer even more.  They could save face by saying, look, originally with the data and the projections we had in the springtime we thought state and local governments would need over $900 billion dollars in state and local assistance, and if those projections held true, we would be sticking to that today, but the new data shows things aren't as bad on the state and local front as we all thought it would be back in late April, early May, so we're willing to revise down this figure.
I think this would be a golden opportunity for Democrats, for Nancy Pelosi, to move closer to a compromise without really having to backpeddle.  Of course, Nancy Pelosi has already offered a top-line as low as $2.2 trillion dollars, so has she already taken into account positive or at least less-negative-than-anticipated revenue numbers from states?  Hard to tell at this point.
So that's good news for stimulus.  But of course, on the other hand, this data from states could cause Republicans to dig even deeper on their party line opposing more funding for state and local governments, so in a sense, this data is somewhat of a double-edged sword, but I think it's good news overall.
Bad News for Stimulus (Continuing Resolutions and Government Funding)
Bad news for stimulus of course, as I mentioned yesterday, continues to be the government funding bills.  I've covered this previously on the channel, but basically the government's fiscal year begins on October 1.
So in September Congress is busy with appropriating money to various government agencies.  If Congress fails to do that by midnight on September 30, the government shuts down until a funding agreement is reached.
Of course this doesn't mean everybody in the government stops working, it just means that certain operations will shut down.  And for the past couple weeks, Treasury Secretary Mnuchin and Nancy Pelosi were negotiating these funding bills, and things looked rosy, even up until this past Friday, things looked rosy, you know Republicans get their farm money, Dems get their food assistance money for children, and it was like, "Oh we just have to work out the details."
But yesterday, House Democrats released a plan to fund the government through December 11, and it didn't include $30 billion dollars to farmers that Republicans wanted, and like I told you yesterday that's why Mitch tweeted that he didn't like it, he would probably reject it.
And yesterday, Nancy Pelosi exhorted Republicans to accept the House proposal.  In a statement, she said, "The Continuing Resolution introduced today will avert a catastrophic shutdown in the middle of the ongoing pandemic, wildfires and hurricanes, and keep government open until December 11, when we plan to have bipartisan legislation to fund the government for this fiscal year."
Larry Kudlow on Government Funding (Farm Aid) and Stimulus
And White House Economic Advisor Larry Kudlow was asked yesterday about the lack of farm aid in the Democrats' proposal, and he said, "We do prefer additional farm aid, most of all we want a clean C.R., keep the government open."  So he's saying, at least from the White House's perspective, or probably at least from Kudlow's perspective, that additional farm aid is preferred but he, at least personally, didn't make it sound like a huge sticking point.
Speaking of Kudlow, he was also asked yesterday if the economy will continue to improve with a stimulus package, and Kudlow gave a resounding "yes" in response to this question, Kudlow thinks that the economy will just recover without additional stimulus, he says things like stimulus checks will help, which he calls in this clip "direct assistance through checks," but he's not super gung-ho about the necessity for more stimulus, here's the clip.
Reporter: Could I ask though, will the economy continue to improve if you don't get a stimulus package?
Larry Kudlow: Yes, I've said this many times, we are in a self-sustaining, strong, V-shaped recovery. Now that battle's not over yet, there's still a good deal of hardship left, but unemployment having come down to 8.4 percent, we've created over 10 million jobs, 14 million on the household survey, these are good signs, strong retailing, strong autos, strong housing, inventory is going to be rebuilt.  So I think the so-called CARES 2 or whatever has elements that could help which are worth negotiating to wit the the small business sector we have long advocated extending the PPP for small business, there's stories in the paper today about the restaurant, about the restaurant industry, which is struggling to come to come back a lot, we have argued from day one to help the small business including the restaurant, so let's get that done.  We want to open up schools, so why don't we get that done? The president favors the direct assistance through checks, so let's get that done. There are certain things that could help, but I do not think the recovery is contingent on that assistance package, and um as long as businesses keep open and stay open we're in much better shape than we were although we've got a lot of work to do.
But keep in mind, like I've said before, Kudlow can be kind of a loose cannon, right, these White House advisors, sometimes they say stuff and it's, like, is that really the White House perspective as a whole or just your personal perspective, you have Kudlow here, kind of glossing over farm aid and glossing over stimulus, the more you listen to some of these advisors, the more you think, well, Kudlow talks for Kudlow, Navarro speaks for Navarro, not for Trump, not for the White House as a whole, so take what they say with a grain of salt, right.
Unemployment Update
I've seen reports of people getting paid in Indiana, the state did say that yesterday, September 21, was the date it would start.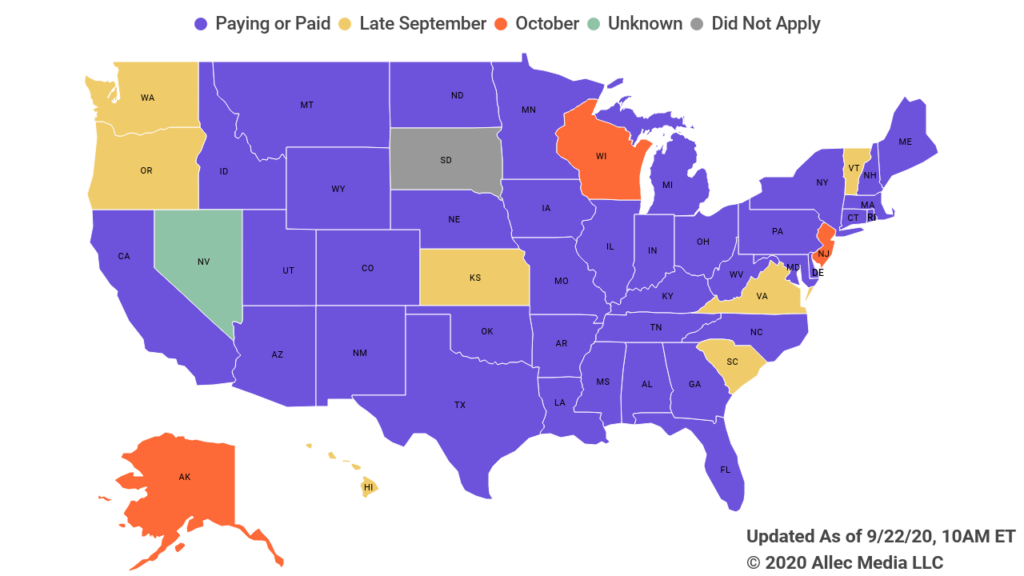 And in Oklahoma, people are being paid today, though the Oklahoma Employment Security Commission tweeted this morning, "With the large number of payments being processed for the LWA benefit, some payments are continuing to process throughout the day today. Eligible claimants may not immediately see the LWA payment on their account this morning, but these payments will continue going through today."  South Carolina looks like possibly not until next week, I was hoping it would be earlier based on statements.