Pelosi Makes Stimulus Promise As Republicans Chide
This is my stimulus update for Wednesday, September 16, and things are getting feisty in Washington, D.C.
Republicans Chide Pelosi and Democrats Over Stimulus
I told you yesterday, yesterday House Democratic leaders in quick fashion wasted no time to voice their disdain for the Problem Solvers Caucus "March to Common Ground" stimulus proposal that proposed a second round of stimulus checks and perhaps even a third round of stimulus checks.  House Dems didn't like it, they pointed back to their precious HEROES Act.
Well, this morning, Republicans jumped on this as an opportunity to further criticize Democrats for Congressional failure to reach a compromise and pass a stimulus bill.  Senate Majority Leader Mitch McConnell: "Even Speaker Pelosi's own House Democrats are sick of her blocking COVID-19 relief. But she insists anything short of her multi-trillion wish list would make Democrats 'a cheap date.' What a joke. People are hurting. They need help. Not the Speaker's pointless political games."
President Donald Trump: "Democrats are 'heartless'. They don't want to give STIMULUS PAYMENTS to people who desperately need the money, and whose fault it was NOT that the plague came in from China. Go for the much higher numbers, Republicans, it all comes back to the USA anyway (one way or another!)."
So there we have Trump saying, "Yup, Democrats are to blame here, but Republicans, don't play cheap here, I really want to send more stimulus payments before the election, so don't go cheap, 'go for the much higher numbers.'"
Trump Plotting?
Again and again Donald Trump is bringing up stimulus payments very close to an election less than seven weeks away with millions of Americans making their decision and voting by mail before November 3.
Does the Donald have an ace up his sleeve, push comes to shove, would he make good on that suggestion that he made previously that he could exert unilateral authority to send stimulus checks out of unused appropriated money without congressional approval?
Well, to be frank, that would probably be the last thing Nancy Pelosi would want because to many individuals that would make the Donald look like the good guy and Nancy Pelosi look like the villain who tried to stop money from getting into the people's pockets.
Pelosi Says House Must Stay Until Deal Is Reached
So what has Pelosi been up to?
Well, I think she's realized that many, many individuals in her own party are frustrated with what they perceive to be stalling on the part of top Democrats.
And Republicans have been very fond of saying, "Nancy doesn't want to do a deal because it'll help Trump."
So she said yesterday, House is going to stay until a deal is done.  Because the House of Representatives is scheduled to leave, out of town, out of D.C. on October 2 and not return until November 16, after the election.  Why?  Because members of the House, they're reelected every two years, these folks want to get back to their home districts in October and hold town halls and if it weren't COVID time, proverbially shake hands and kiss babies, to defend their House seat against a challenger.
But yesterday Pelosi said, "Nope.  Y'all can't leave in October until we get a bill done."  She said, "We have to stay here until we have a bill," and then later in the day, "We are committed to staying here until we have an agreement that meets the needs of the American people."
Rank-And-File Democrats Frustrated
But what does this mean exactly?  House has proxy voting now in light of coronavirus, let's keep that in mind.  And just as I was frustrated yesterday by Democratic House leadership, rank-and-file Democrats are frustrated as well.
Democratic Representative Max Rose of New York's Eleventh Congressional District called the Democratic leaders' rejection of the Problem Solvers Caucus proposal as "yet another demonstration of why the American people hate politics."
Another Democratic representative from New York, Kathleen Rice, said, "When I speak to my constituents, they don't ask me why Mitch McConnell isn't doing anything.  They ask me what our Democratic majority is doing to work around him."
And Republican Senator John Cornyn of Texas said yesterday, "I don't see her [meaning Pelosi] being more willing to negotiate before we get to the election.  So, I think I'm not too optimistic, but if lightning strikes, I'll be here."
Who's Going to Cave for the Sake of Stimulus? Democrats or Republicans?
So who's going to cave?  It's quite interesting because Pelosi knows she's not going to lose her seat and the House is not going to flip red, that's a long shot, an incredibly long shot for Pelosi to lose her majority in the House, at least based on trends we've seen so far.
But could her posturing, her digging into previous claims that she doesn't want to go piecemeal, doesn't want a skinny bill, could that cause mutiny within her own party?  Because remember, her seat as a representative from California's 12th district is secure, but also remember that assuming Democrats retain the majority, she will be up for reelection as well for Speaker of the House, if enough Democrats who want a deal aren't pleased with her leadership, they could potentially elect a new speaker from their own party in January.
So maybe politically speaking, that's her concern at this point, but of course she could very well be shooting herself in the foot if she's demanding that these perhaps more moderate Democrats especially in red states whose House seats are in jeopardy have to stay past October 2 to get a deal done, and not be allowed to go home to campaign, especially if she continues the messaging that she has provided thus far with respect to not wanting to engage in any of these skinnier proposals Republicans come up with.
That said, it appears that the majority of Democrats, especially the more established Democrats in the House, in addition to the more progressive wing of the party, are with Pelosi on this matter.  So I don't think that her strategy is a terrible one because at least at this point most of the members of her caucus have adopted her way of thinking with respect to the next round of stimulus.
Republicans on the other hand, I don't think feel as much pressure right now, hence their extremely skinny, emaciated bill that they put out last week, because they have Trump, who himself is bringing up stimulus checks again on an almost weekly basis and who could very well be willing to cross the line with respect to presidential authority if it means getting more money in the hands of the people, which he knows would help him in November.
So, things are getting exciting again, Pelosi has said you all can't home until we get a deal done, what will these mean, I don't know for sure, will Democrats put their own watered-down version of the HEROES Act, I'm not sure, but the timing of this just really couldn't be worse, because as opposed to if all this was happening in the middle of 2019, they could really just focus on helping people, but now they really have to think about electability and November 3.
Unemployment Update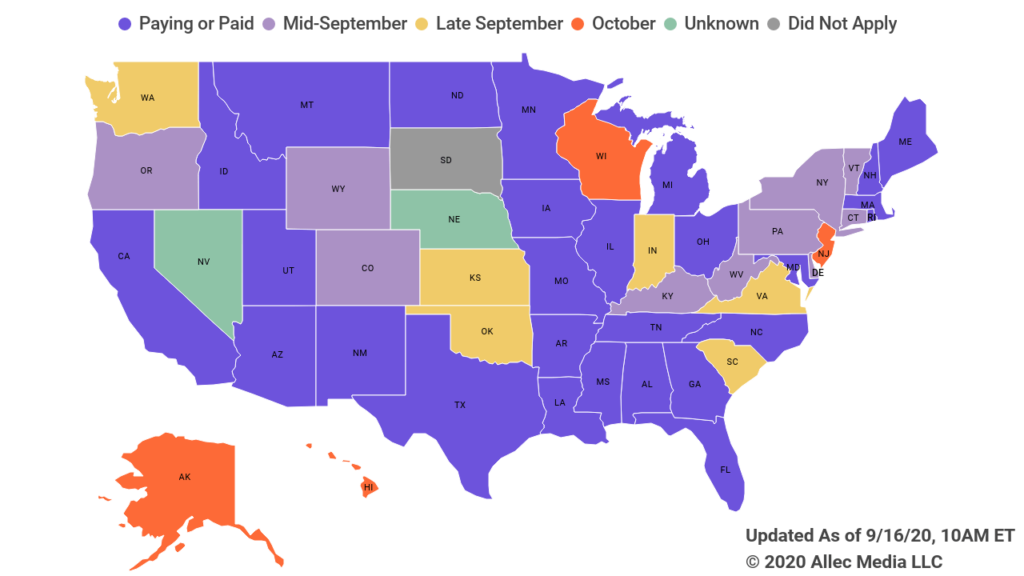 Colorado should go out this week, Indiana next week, Connecticut this week, West Virginia this week probably paper mailed, Kentucky this week, New York this week,  Ohio I have seen reports of a few people receiving it this week but most still not, Vermont I'm hearing unconfirmed reports that they are paying paper check started to process those this week, Pennsylvania this week, and Virginia by end of September, other states here on the map, again these are just estimates.