"I'm Pretty Happy" (Pelosi); Marco Rubio Going for Stimulus?
This is my stimulus update for Thursday, October 22.
In terms of stimulus let's start with the skinny bill just so we can put that one to bed, McConnell yesterday, as he said he would, put up the latest half-a-trillion-dollar Republican skinny bill on the Senate floor, and it came up short for the 60 votes required to advance it to a final vote, the votes were along party lines 51 to 44.  So that's that.
Don't want to read? Watch the video here!
So what about the real stimulus negotiations?  Well, Pelosi was talking to Andrea Mitchell yesterday on MSNBC, and she said that she is "pretty happy" about the prospect of coming to an agreement.
She said that she wants a deal before the election, admits it might be tough at this point especially with Mitch McConnell's posturing, but she said, "let's keep working on it so that we can do it after the election" if that's what needs to happen.  Of course, you're well aware of my concerns with stimulus after the election especially if we have a lot of lame duck Republicans.
Pelosi brought up her typical concerns — state and local, liability protection, schools, healthcare, crushing the virus, and all that — but she also brought up specifically the restaurant industry, we haven't heard Pelosi specifically talk about the restaurant industry very much, she said, "One other challenge that we still have is about how we treat restaurants and small – this has emerged since five months ago, the restaurants and the small venues – additional help for restaurants, we had that before."  Trump was railing against state and local again yesterday on Twitter, by the way, he tweeted, "Just don't see any way Nancy Pelosi and Cryin' Chuck Schumer will be willing to do what is right for our great American workers, or our wonderful USA itself, on Stimulus. Their primary focus is BAILING OUT poorly run (and high crime) Democrat cities and states.  Should take care of our people.  It wasn't their fault that the plague came in from China!"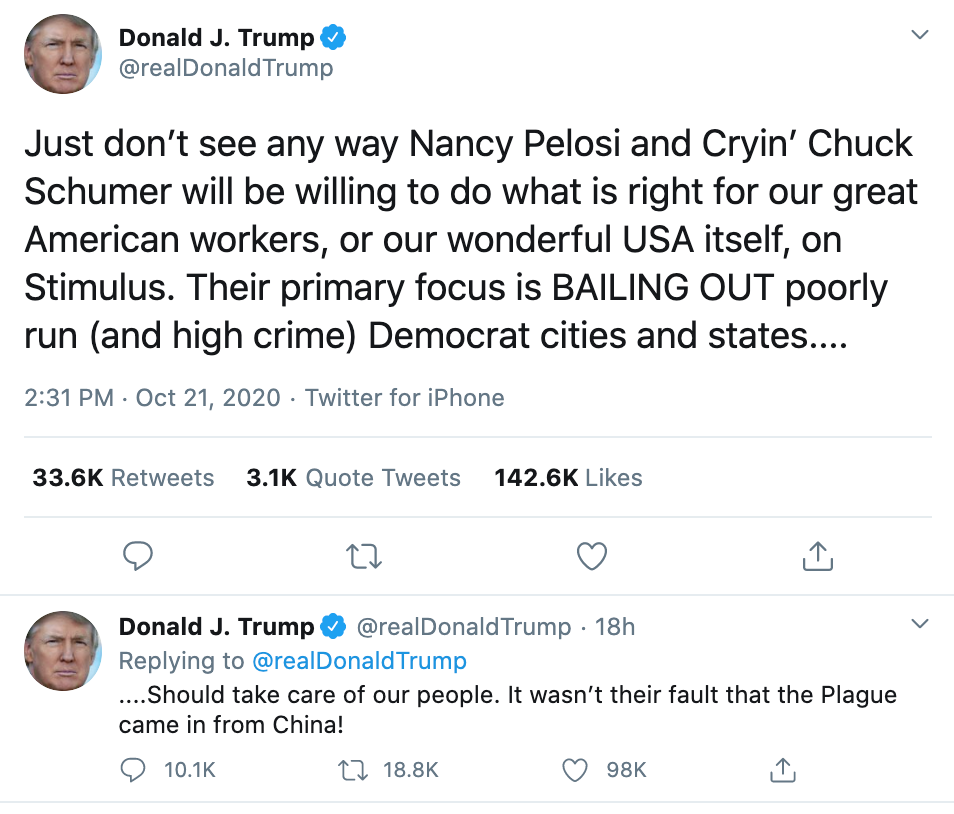 Pelosi spoke with Mnuchin again yesterday obviously, and all we're really getting about these discussions are tweets from Pelosi's deputy chief of staff and spokesperson Drew Hammill, who said that Pelosi and Mnuchin spoke for forty-eight minutes, and the conversation brought them closer to being able to put to paper to write legislation, finally, they've just been talking, hopefully soon, they'll start, or at least their staff and the committees will start writing.  Hammill specifically pointed out differences pertaining to testing and tracing, dang it, I thought that got worked out earlier this week, but I guess not, and of course ensuring school safety in the midst of COVID-19.
So let's get the latest from Pelosi, she held her weekly news conference this morning, and there was some good stuff in there.  Regarding nailing down the specifics of an agreement regarding COVID-19 testing and tracing, Pelosi said and I quote, "I think we're just about there," but she still admitted that the two sides have not reached an agreement on state and local funding or the liability shield, the former being something heavily criticized by Republicans, loudest of which being the president, going back to the tweet I showed you earlier, and the latter, the liability shield for businesses, hospitals, etc. being something that Pelosi has called a "poison pill" over and over and over.
So I take it as a good sign that Pelosi said "we're just about there," but practically speaking, the liability protection and state and local funding are two big hills that need to be scaled before anything gets done.  Pelosis said she can't really speak to the disarray in the Republican Senate and what's going on in Mitch McConnell's mind right now about stimulus.
Speaking of which Mark Meadows said yesterday that everyone's focus on Senate Republicans and whether or not they would go for a bill is silly, we shouldn't be worrying about Senate Republicans right now, we should be worrying about Nancy Pelosi and whether or not she will be reasonable, so says Meadows.  But while we're on the topic of Republican senators, Marco Rubio said on Squawk Box this morning that he would possibly support a big-ticket stimulus bill, here's the clip:
So clearly the cost is a concern to him, but he said, that "the cost of not doing something is potentially even higher" and that "we run the risk here of structural damage to components of our economy if we don't do something."  And he even brings up local government, he said he doesn't think that we've seen the worst yet from some cities and counties, he didn't mention states, but still helping local governments is a Democratic priority here.
So these comments from Marco Rubio are sounding pretty good to me.  He went on to say that he has more optimism that we're going to have a deal on stimulus, though he's not sure of the timing of it in terms of pre-election or post-election, and get this, get this, he also said that he wishes it had been yesterday, he wishes it'd been three months ago that a deal was struck, that's incredible, that's incredible, because three months ago what were Republican senators saying about more stimulus?  "We have to wait and see, we have to wait and see," and here we have a prominent G.O.P. senator saying that he wished it would have been months ago a stimulus deal was reached.
And keep in mind that  Rubio's not in cycle this year, he's not up for reelection until 2022, so this isn't just political posturing here for votes, it sounds to me like the man would vote for stimulus, that's a good sign.
Bernie Sanders, by the way, not that he's terribly relevant to this discussion, but he was talking to The Hill about stimulus, he criticized the Republican proposal, he criticized McConnell, he said, look if Dems control the Senate, we'll have massive stimulus.
In terms of jobless claims, it's Thursday, and new jobless claims have dropped to the lowest level since the beginning of this COVID-19 crisis, that's a good sign.
787,000 state UI claims down from the revised 842,000 reported last week, keep in mind there were also 345,000 PUA claims for self-employed individuals.