Mnuchin Says He'll Accept Dems' Testing Language
This is my stimulus update for Thursday, October 15.
Just real quick, today is a major tax deadline, today is the extended deadline to file your 2019 tax return if you need to file one and you filed for an extension.  As it relates to stimulus, if you didn't file for 2018 but you have a 2019 filing requirement, this is the last day to file your 2019 tax return and still get a stimulus payment this year, otherwise you will have to claim it on your 2020 tax return.
Don't want to read? Watch the video here!
If you do not have a filing requirement, you now have until November 21 to use the Get My Payment Tool to get a stimulus payment this year, but today is the extended tax return deadline for those who have a 2019 filing requirement.
This is also the end of the busy time of my year, leaving me with more time throughout the day, so going forward I want to continue to do these stimulus updates for you but also talk about other topics as well, I've been busy so haven't done a great job reading comments, but please comment below what other topics or video ideas you'd like to hear me talk about now that I have some more time to potentially create multiple videos per day, if you could let me know what you're interested in, I would really appreciate it.
In terms of stimulus, folks, we really need it, a report came out today indicating that 8 million Americans have fallen into poverty since May according to researchers at Columbia University, the CARES Act kept many of them from slipping into poverty, but now that pretty much all direct payments, I know some people still haven't gotten first stimulus, but overall most of the direct payments to the people from the CARES Act, whether stimulus checks or unemployment, has run out, and this number will only increase without further stimulus, especially with that eviction moratorium ending in December, it's a scary situation, unemployment claims were released to day to the tune of 898,000, up from over fifty thousand from the previous week, this is the largest increase week-over-week since August.  However, PUA claims for the self-employed dropped significantly by 87,000, to 373,000 from 460,000 the week before.
Counting people on all forms of unemployment programs, the number dropped by 200,000.  So mixed signals, people out there still need help, and it's frustrating because we're not seeing compromise.
Speaker of the House Nancy Pelosi and Treasury Secretary Steven Mnuchin spoke on the phone for an hour yesterday, Pelosi's spokesman said that the conversation was "productive" and that they will speak again today. Nevertheless, just listening to Pelosi's and Mnuchin's own words about the conversation, it's not the most positive thing.
Pelosi basically continued to criticize the Republican proposal, she compared it to putting band-aids on the issue and not addressing the real problem, which in her view is to, yes, help people financially but underlying that to implement a national strategic COVID-19 testing plan. Mnuchin said at an event later in the day that at this point getting something done before the election and executing on it would be difficult.
He was asked if he believes that Democrats are holding out here because they that don't want to give Trump a win before the election, and Mnuchin said yes, he thinks that's part of the issue here. He said that the national debt issue is concerning to him and that he wants to put money in the economy now, it doesn't have to be all or nothing as Pelosi has implied.
Like I said, Mnuchin and Pelosi will speak again today.  Mnuchin was on CNBC this morning over the phone and he said that when he speaks to Pelosi today he's going to tell her that Republicans are not going to let the testing issue stand in the way and that Republicans will fundamentally agree with their testing language, subject to minor issues, that's a big step, because the whole absence of a national testing strategy is one of the things that Pelosi keeps bringing up that is lacking in the Republican proposal, so for Mnuchin to say something like this, that's progress.
Does this mean that it's a slam dunk that a deal will be struck before Election Day because they might overcome this hurdle?  No.
There's still a lot of things they would have to work through, there's the whole Senate issue to contend with, but just as far as negotiations between Mnuchin and Pelosi go, I see this as progress.
Speaking of the national debt, Trump was asked by billionaire David Rubenstein yesterday about the direction of the national debt if there is another stimulus bill, and Trump said it's very concerning on his mind. Trump gave a daily stimulus tweet, and unless he feels like pushing the boundaries of presidential authority his opinion on stimulus is practically worthless at this point when it comes to reaching a deal, but just for posterity's sake, he tweeted yesterday, "Nancy Pelosi couldn't care less about the American people or the great American worker. She should approve needed stimulus now. Most other Dems agree. Republicans are ready to go. I am ready to sign!"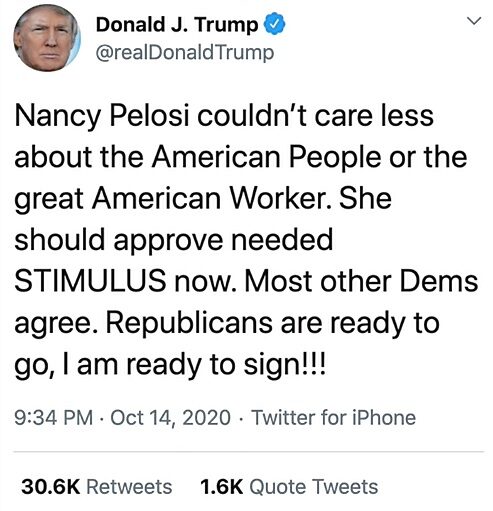 Two things wrong here.  First, Trump said "Republicans are ready to go."  Which Republicans are ready to go with the 1.8-trillion-dollar deal, Trump?  You, Mnuchin, Meadows, what about the Senate?
Did Meadows brief you on the conference call over the weekend with Senate Republicans who basically roasted Mnuchin and Meadows when they presented the 1.8-trillion-dollar offer?
The Republican Senate looks pretty impotent right now when it comes to comprehensive stimulus, so I take issue with Trump's claim that Republicans are ready to go.  He also said that "most other Democrats agree" that Nancy should take the deal.
We don't see evidence of that, "most", as in the majority, no.  I've told you about progressive Congressman Ro Khanna, he thinks Nancy should take the deal, Andrew Yang wants Nancy to take the deal.  A few other Democratic members of Congress have joined the chorus, including Abigail Spanberger representing Virginia's seventh congressional district, Peter Welch representing Vermont's one congressional district, and maybe even Tom Malinowski of New Jersey's seventh congressional district.
Trump did reiterate this morning on Fox Business that he's willing to go higher than $1.8 trillion, but like I said, but would that get enough votes in the Senate?  Not likely.
He was asked, well, if you're willing to go above $1.8 trillion, why not just take Pelosi's 2.2 trillion dollar offer, and he basically implied that she wants money for things unrelated to COVID and also said "your pride couldn't let it happen."
He said that we like stimulus, we want stimulus, we think we should have stimulus, but Mnuchin has not come home with the bacon, so he's kind of blaming both Pelosi and his representative, Treasury Secretary Steven Mnuchin.
We continue to wait for the next Republican skinny bill, probably half a trillion dollars, hopefully we'll get a look at it next week when the Senate is back in town, obviously Pelosi will not be interested in it, and just like the previous Republican skinny bill I'm not optimistic that it's even going to get a floor vote in the Senate.
McConnell was asked about Trump's messaging to "go big or go home" with stimulus, and McConnell said that he will propose next week what he thinks is appropriate, which is obviously far less than what Trump thinks is appropriate or Pelosi thinks is appropriate, he's basically saying that Trump is irrelevant.