This is my stimulus update for May 4, 2020, I didn't make an update yesterday morning because A) there wasn't really much going on in the world of stimulus and B) it was my son's first birthday, so give him a happy belated birthday on this post on my Instagram @loganallec if you have the chance today.
So I'm going to talk about Trump's remarks yesterday at the Lincoln Memorial and what that could possibly mean with respect to the next relief bill.
But first let's talk about the poll I ran over the weekend for all of you out there with qualifying children under the age of 17, so let's dig into this, 5,900 responded to the poll and have dependent children under the age of 17.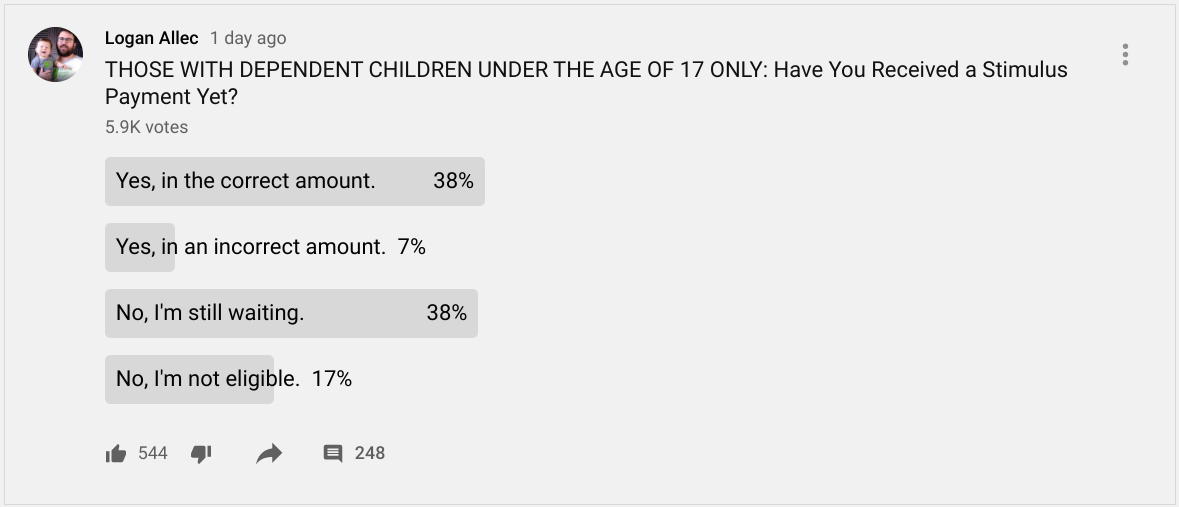 Of that 5,900, 38%, so let's say 2,200 have received stimulus in the correct amount, and 7%, let's say 400 have received stimulus in an incorrect amount.
So that means that 2,600 of you with qualifying children have received a stimulus payment, but of that amount, 400 received an incorrect amount, 400 divided by 2,600 total who received a stimulus at all yet, that's more than 15%, that's pretty stinkin' high, right.
So that tells me there's a big problem in how the IRS is handling the extra $500 for qualifying children, and right now, your only recourse is to file a 2020 tax return and get the $500 per child there, by the way, I addressed this in an answer to a question sometime in April, I don't know the exact date, but if your child turns 17 in 2020, they still qualify for the $500, so don't think they don't.
What reminded me of this is that I have 17-year-old brother, and he turned 17 a couple months ago in March, and I was clarifying this with my dad a few days back, telling him that, Timothy my brother does qualify for the $500 because he was under 17 at the end of 2019, turned 17 in 2020, so just want to put that out there for anybody with dependent children who were born in 2003, because I know there are probably some of you out there who are confused about that.
A new poll, general poll, on everybody whether or not you've gotten your stimulus check, is in the Community Tab in the channel, so please go vote there and I will report the results later this week.
So will there be a second stimulus check, people ask me in this in the comments. I don't know for sure, no one does, right.
All we can do is look for clues, clues coming out of the mouths of those with power,  junior Congressmen and Congresswomen throw around these fun ideas, $2,000 a month, and those are fun to talk about, but what we really need to be paying attention to is the kind of stuff said by people like Mitch McConnell, Nancy Pelosi, Schumer, Mnuchin, and McCarthy to some degree, and of course the man sitting in the Oval Office, President Donald Trump.
Now, if you watched Trump's Town Hall yesterday on Fox at the Lincoln Memorial, you know that a couple minutes in, this single mother from Alabama, Shayna Cruz, asks him a question, virtually, says, she lost her job in March, she's behind on every bill, she's about to be evicted, she's had to rely on other people's giving, donations to feed her own children, she has not received a stimulus, nor anything from unemployment, and she asks him, "Is there more help coming?"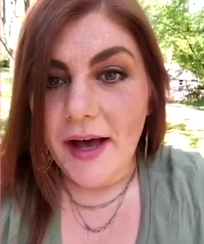 I know a lot of you out there can identify with this woman, and you're wondering the same thing, is there more help coming?
Well what does Trump say, he says, "There's more help coming, it's not your fault, and there is more help coming. There has to be." He says, "a case like that, [referring to the woman who asked him the question], it's really, that's the reason why we have to do more." Then he says, "On that aspect of it, it's very bipartisan."
But note the next line here, he doesn't say, "Hey, you're going to get another stimulus payment", he doesn't say that, he takes the conversation to jobs, he says, "So the answer is, yes. We're going to do more and you're going to [what, get another check, no that's not what he says], he says you're going to have your job. You're going to get another job, but you're going to get a better job. You'll get a job where you make more money, frankly. And I think that's going to happen."
And you can kind of see in this statement what we've been talking about, all these junior Congressional democrats are saying, "Hey, we need to throw more free money at people," while Republicans like Trump and others are more optimistic about the country reopening and getting people back to work.
Trump flat-out says it right after he says the lady is going to get a better job, he says, "We did the right thing by shutting down the economy, but now we have to get it back open, and we have to get it back open safely, but as quickly as possible."
And then he talks about some health-related matters, I'm not an expert here, so I'm just going to tell you what he said, he said we could lose as many as six figures to the virus, he said we think we'll have a vaccine by the end of the year.
That seems very optimistic to me, but then again, I'm not a medical professional, so I don't know.
And in the second part of the town hall, the S word, stimulus is brought up again.
Trump said, "The greatest thing we can do is get rid of the virus because then everything comes back together. You don't need stimulus once that's happening."
Then he talked about infrastructure and a payroll tax cut, and he said that he told Mnuchin, "We're not doing anything unless we get a payroll tax cut", again, with the mindset being the way to stimulate the economy is not more checks, necessarily, but to help small businesses, to help jobs.
This is what the President of the United States has said, this is where his focus is, so while other YouTubers are out there making clickbait video after clickbait video about the fairy dust $2,000 a month second stimulus check, I'm telling you what's actually happening.
And you know, I think I'm going to make a video roasting all these other guys, like this, this Wiseflys, this morning he basically just regurgitated what he read in some Forbes clickbait article, and then tells you what Larry Kudlow said, no mention of Trump's town hall yesterday whatsoever, because Wiseflys is basically just derivative clickbait, and this Clayton Morris, the infamous Clayton Morris, go Google him, and you'll know everything that you need to know about him, all clickbaiting about the second stimulus, while completing ignoring what the President of the United States said yesterday, what a joke these guys are.
I mean, honestly, these clickbait stimulus YouTubers must be stopped, I mean if you watch Wiseflys' video this morning he tells you he's your source for the latest "second stimulus check information," and doesn't even talk about Trump's virtual town hall yesterday, what a joke, I mean if he sees this I wouldn't be surprised if he doesn't talk about it in his next video, but he'd rather talk about some Forbes clickbait and some nonsense from Larry Kudlow.