This is my stimulus update for Saturday, August 1.
Republicans and $500 for Dependents
Now quick update on stimulus checks, Kevin Brady, whose the top Republican members of the House Ways and Means Committee, said that he did not know if Republicans would be willing to raise the stimulus check amount for dependents from $500 to something else like $1,000 proposed by Romney and Rubio or even the $1,200 figure proposed in the Democrats' HEROES Act.
We know the Democrats in the HEROES Act are pushing for $1200 for dependents, same as non dependents in their HEROES Act, but Kevin Brady, he said that he's not sure if Republicans are willing to go any higher than $500 per dependent, even extra under stimulus checks as far as he knows.
Just for reference, CARES Act stimulus checks cost about $292 billion.
Republicans' proposed HEALS Act stimulus checks would cost about $300 billion because they would make all dependents eligible for the $500 not just dependent children under the age of 17 as was the case in the CARES Act.
Democrats' proposed HEROES Act stimulus checks would cost about $413 billion because they increase the amount per dependent from $500 to $1,200, albeit capping it at three dependents, but they also make more people eligible for stimulus checks.
That's basically the stimulus check update. Democrats and Republicans are actually pretty close on the stimulus checks, relatively speaking, about $113 billion apart, which is a very small portion of their bigger $2 trillion difference between the $1 trillion Republican HEALS Act and the $3 trillion Democrats' HEROES Act.
The Concern Right Now
So the concern right now is getting the stimulus package as a whole negotiated and passed.
There is very little chance that if a stimulus bill passes that it would not have stimulus checks, it would be an extremely unpopular move for now both parties to officially propose stimulus checks for the people to then take them away after negotiations, that would be a terrible look politically, so I don't think that's a concern, what I am concerned about is a bill actually being negotiated civilly between the two sides and actually passing sometime soon.
This past Monday Republicans released their HEALS Act, their shot at the next stimulus package, it's about $1 trillion.
Status of the Stimulus Negotiations
Every day this past week, the Republican negotiating team, led by Treasury Secretary Steven Mnuchin and White House Chief of Staff Mark Meadows, have met with the most powerful Democrats in the country, Speaker of the House Nancy Pelosi and Senate Minority Leader Chuck Schumer.  These meetings have been anywhere from forty-five minutes to two hours each.
All the way up until yesterday, those talks had gone nowhere.
However, this morning, it sounds like there might be a little bit better news from the negotiating table.
The foursome met this morning for over three hours, and Mnuchin said it was the "most productive we've had to date."  He said that the two sides are trying to narrow down the things we don't agree on."
And White House Chief of Staff Mark Meadows said that this morning's meeting was the "first day of a good foundation."
He said, "We're still a long ways apart, and I don't want to suggest that a deal is imminent, because it is not. But like with any deal, as you make progress, I think it's important to recognize you're making progress."
And Nancy Pelosi said, "Today was productive in terms of moving us forward."
Senate Minority Leader Chuck Schumer said, "We're not close yet, but it was a productive discussion. Now each side knows where they're at."
So, that's four for four folks.  All four negotiators had positive things to say about this morning's meeting, that is great news, in fact, that's probably the best news we've heard all week since the Republicans' HEALS Act was announced.
Apparently the four went through the issues, the items that both sides want and had a productive talk.
Tomorrow their staff will huddle together, maybe draft some potential language for a bipartisan bill, I don't know, that might be optimistic because if you look at their language from this morning, they make it very clear that progress has been made but they're nowhere close to a deal.
The four negotiators will regroup on Monday for another talk.
Who's missing here?  Mitch McConnell.  He's not at the bargaining table right now.  It's Meadows and Mnuchin leading the charge from the Republican position, and of course Meadows and Mnuchin are in close talks with McConnell, but McConnell's not in the room.
WTF Trump
But before that, I just want to point out the wrench that might be thrown into the middle of all this, and that is President Donald Trump, and I'm not talking banning TikTok, I'm talking about this Tweet from the President earlier today: "Payroll Tax Cut plus Dollars!"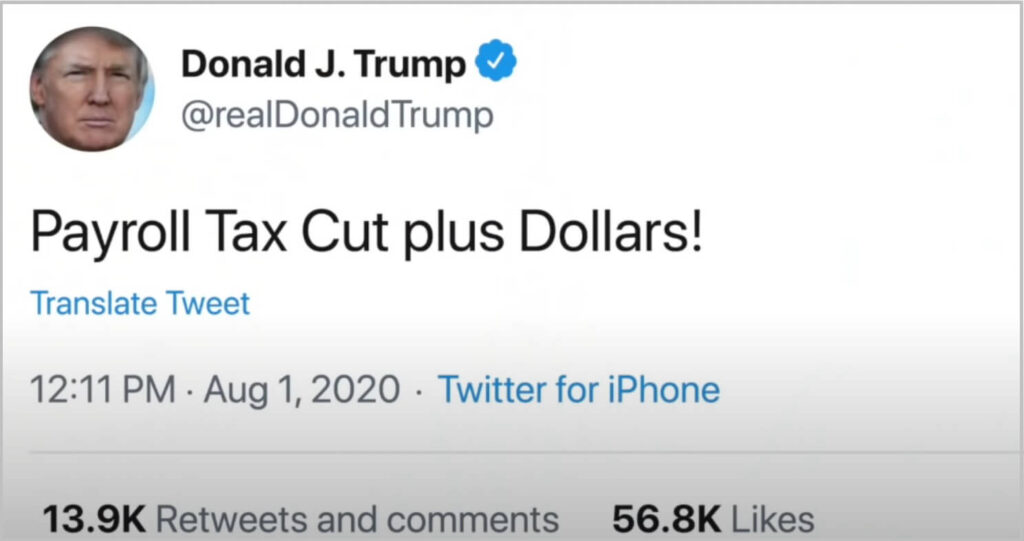 What?  Is he bringing back the payroll tax cut after all the drama from last week about it?  Just as Mnuchin, Meadows, Pelosi, and Schumer are making progress?
This is weird, this is weird, but you know how the President can be sometimes. I hope this doesn't throw a wrench in things.
To be fair, though, I want to make it clear that the four negotiators this morning. It's not like they were so optimistic that they were like, Oh, yeah, a deal is we're basically ready to make a deal.
It's not like that. They're saying, look, progress has been made, today's the best day so far, but we're still miles apart on a deal.
McConnell on Stimulus
Let's get to the McConnell interview so we can get an estimation of where his head is at.
So yesterday Senate Majority Leader Mitch McConnell was interviewed by Terry Meiners on WHAS, a Kentucky radio station, about the next stimulus package. Here's the link to interview where you can listen to the entire interview, it's about 13 or so minutes long, but I'll just cover some key points here that indicate where the Majority Leader's head is right now at various issues.
Liability Protection
First of all, Terry asked McConnell about the liability shield, we know that yesterday there were reports about the White House appearing to want to not make the liability shield a red line like Mitch McConnell does, White House Press Secretary Kayleigh McEnany almost said as much during her press conference yesterday, but then later in the day White House Chief of Staff Mark Meadows reportedly said to a reporter that the White House will support McConnell's liability shield red line in any bill.
So there's some confusion there, I think that it's possible that no one really knows what's going on, and so Terry Meiner asked McConnell about this:
Some people were upset that the Senate is not working this weekend because of the negotiations over the stimulus package, and the White House is doing an end run around the liability shield, what's up with that, are they trying to throw that aside?
No, I don't think so. Ultimately if we get a deal I'll be the one to put it in the Senate, the President and administration are for it. They are prepared to negotiate it away, but that's not going to happen.
This pandemic will be with us well into next year, what we don't need is an epidemic of lawsuits on the heals of the pandemic, suing doctors, hospitals, educators, and small businesses for things related to the coronavirus.
So McConnell is reiterating his position that any bill in the Senate will have the liability protection in there, he dismisses any notion that the White House is prepared to negotiate it away as a rumor, but come on, we see Kayleigh McEnany yesterday putting forth McConnell, not the White House, as the one with the liability protection red line.
But anyway, point is, McConnell has not shifted from his position on liability protection right now.
GOP Defectors
Then Terry asks McConnell about these Republican senators who don't want to support another stimulus package.
MEINERS: There were several GOP senators who said they weren't interested in any GOP stimulus package, so how did you bring them back to church, back to your way of thinking?
MCCONNELL: Well I think there are 15-20 of my guys who aren't going to vote for anything, their argument is not irrational, we've got a massive debt now, and they don't think we should pass another one of these bills, I don't agree with that, but we will not have everybody on our side.
Now, this is better than what Lindsey Graham said earlier this week when Graham said that half the Republican senators won't vote for a bill, but if you do the math here, so according to McConnell, let's say best case only fifteen Republican defectors, that leaves 38 potential Republican senators to vote for the next stimulus bill, so that would mean he would only need 13 out of the forty-five Democrats plus two Independents to cross the aisle here to reach that 51-vote majority.
Of course, to get cloture and to avoid a filibuster, he'd need 60 votes, and I'm fairly confident that even defector Republicans who wouldn't vote yay on the bill would still vote to advance the bill from the debate stage to the voting stage, and if those 13 or more Senate Democrats can be on board with that as well, we could see a bill passed.
State and Local Funding
We know that apart from the internal divisions among the Republican right now, there's also the divisions between Republicans and Democrats as a whole on the big picture items that should be in the next stimulus bill.
We know they both want stimulus checks. But one thing that they are extremely far apart on right now is aid to state and local governments to help them battle the pandemic.
And then of course the next hurdle would be the Nancy Pelosi's House, and we know that Nancy Pelosi really wants to give more federal money to state and local governments, she wanted $1 trillion for this in the HEROES Act.
The Republicans' HEALS Act does not allocate any additional money to state and local government, all it does is make it easier to spend the $150 billion Coronavirus Relief Fund that was allocated to them under the CARES Act.
But there's no new money for state and local government under the HEALS Act. And Republicans know that they're going to get a final bill passed the House, that Democrat controlled House, they're going to have to allocate some more money to state and local government.
Now, here's what McConnell said yesterday about additional state and local government funding:
You've heard a lot of talk about additional assistance for state and local governments, and we're very skeptical about that because according to the Treasury Department, as of June 30, a month ago, the state administration and local administration have not spent 94% of the money so we want to see some real demonstrated need before doing another slog of money for state and local governments, we gave them $150 billion in the CARES Act, and they've not used 94% of that in our state, it raises the question of appropriateness of sending them even more.
They keep going on the news pulling out their pocket lining claiming they're completely broke and I read a report that said only 25% all across America has been spent so I don't understand the hat in hand attitude. 
So McConnell has not shifted from his position that state and local governments don't need more money for the simple reason that he believes that they haven't already spent the money they have.
Unemployment
Then Terry asks McConnell about the negotiations, here's the segment.
MEINERS: You used the imagery of Nancy Pelosi moving goal posts and Chuck Schumer hiding the football like it's bad cop, bad cop like they're not really interested in negotiating. Is that the play going on between the President's Chief of Staff and the Treasury Secretary, they put proposals in front of them and they stare back like Mount Rushmore?
MCCONNELL: We're light years apart, not only on the amount of money, $3 trillion vs. $1 trillion, but on the sense of urgency about it, we have a big fight right now about unemployment insurance, but we don't feel that you should continue this bonus that has made it more lucrative for many workers to stay home as opposed to going back to work. Imagine your neighbor is back at work making less than you are staying home, that doesn't seem fair.
We want to make sure it's properly calculated to replace a significant amount of income but not to put you in a position where you're better off staying home.
So McConnell used this phrase, we're light years apart on the stimulus package, reiterating that $2 trillion difference between the parties' respective proposals.
And he's not only saying that they're light years apart on the proposals, but in McConnell's estimate, Democrats supposedly don't have the same sense of urgency as the Republicans because they weren't willing to go along with Republicans to extend the enhanced unemployment.
Personally, I think McConnell's sentiment here is ridiculous.
Let's pull up this timeline again.
Democrats came up with a proposal, albeit a partisan, imperfect one in May.
Over two months later, Republicans, haven't said "we gotta wait and see, we gotta wait and see" for weeks and weeks, don't release their HEALS Act until after the enhanced unemployment benefits have ended for all practical purposes and four days before the statutory end.
That's not urgency.
For their part, of course, Democrats need to be willing to come down a bit from their original proposal, which by any reasonable estimate was too big and too bloated, but for McConnell to sit there and pretend like his party has been the urgent one here is ridiculous.
This isn't to say that Democrats don't have their fault. I hope things change next week. I hope there is more compromise.
I hope there's more seeing eye to eye from both parties going into next week.