Stimulus Update 4/30/20
This is my stimulus update for Thursday, April 30. I will give my stimulus updates and then answer a few viewers' questions.
If you'd rather watch than read, check out the YouTube version here!

Now, let's talk about our poll results.  So yes, we have crossed over 1/3 of respondents, 34%, having received their stimulus in the correct amount, and less than 2/3, 62%, are still waiting.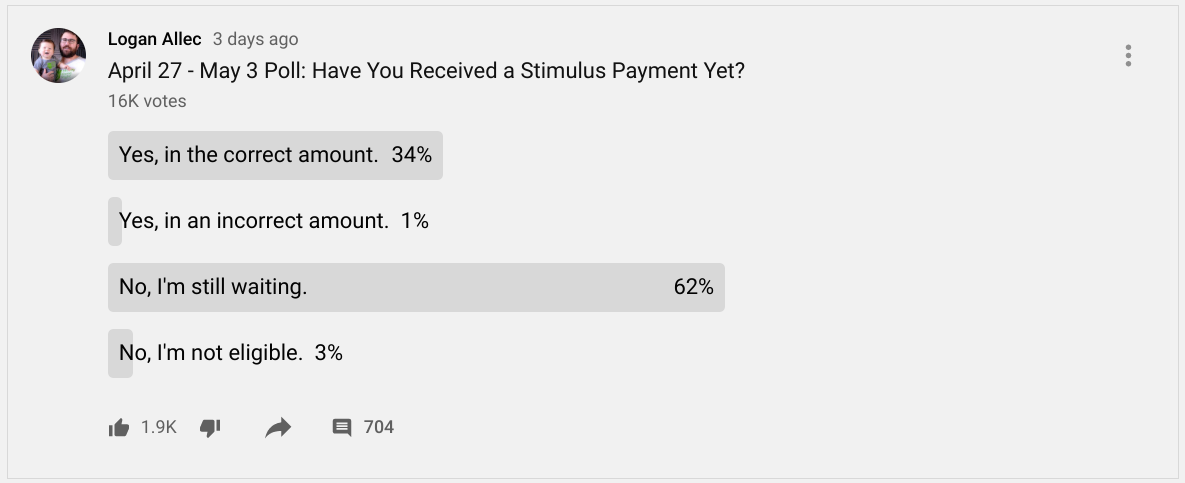 That is great news because last week only 23% had received their stimulus in the correct amount and 76% had not received their stimulus at all.
Now, today, I am releasing another poll in the channel, in the community tab, specifically for those on Social Security, SSDI, and Railroad Retirement Benefits, because the IRS payments would be going to you all this week.
I know many of you have already gotten your stimulus this week, but many of you have not.
And I'm not going to make these clickbait videos on Social Security, SSDI updates unless there's an actual update from the IRS, and the IRS has not yet given updated information than what I've already shared with you, so this means that the biggest updates are coming from you.
So if you're on Social Security, SSDI, or Railroad Retirement Benefits — only — please vote in that poll, I want to see, I want to see if the government has come through for you all.
Just FYI, I am still seeing a lot of people saying they got their stimulus for themselves but not for their child or children, this appears to be very common, and I may do a poll over the weekend or something for those in this situation, so watch out for that, but due to the number of people having this problem, I would be surprised if the IRS does not come out and offer some guidance here, because right now the only guidance is, get the $500 on your 2020 tax return, but a lot of you need the money now, so we will see.
Now let's talk about Pelosi and UBI, so Pelosi said on MSNBC this week, "Others have suggested a minimum income, a guaranteed income for people. Is that worthy of attention now? Perhaps so."
A very political, qualified statement, you know, but still, here's the Speaker of the House entertaining the idea of essentially universal basic income being "perhaps" "worthy of attention."
What universal basic income means, at a very simple level, is simply periodic payments, checks or whatever, from the government to its people, that's it whether or not the person works or whether or not they need it or whether or not they've paid into it, it's not like Social Security retirement where you paid into the system for years and now you're getting the money, it's not like SSI, a means-tested program, where the recipients really need it, no, UBI is money for everybody.
And some people call it free money, and while it might be free for some people, obviously the taxpaying masses pay for it, it's essentially a massive redistribution of wealth on the national level, so you would see why Republicans aren't the biggest fans.
House Minority Whip Steve Scalise, Republican — yes, he was the one who was shot a few years ago while practicing baseball by that left-wing wackjob  — see, there are wackos on both the right and the left, alright — anyway here's what he thinks about Pelosi's notion:
"It's incredibly tone-deaf of Speaker Pelosi to continue using this crisis to push these radical socialist ideas that have been consistently rejected. What we should be focused on is responsibly implementing the relief packages we passed to get trillions of dollars directly into the hands of families and businesses so the American people have jobs and an economy to come back to when we finally reopen."
Other Republican members of Congress obviously joined in the fray.
We'll see what becomes of the UBI conversation when Congress is back in session, the House, by the way, is not back in session next week, the Senate is, and some senators — particularly Dianne Feinstein — are urging Mitch McConnell to not bring the Senate back in session next week, but as of right now, Senate will be back in session next week.
And I can't blame Feinstein for this, the woman is going to be 87 years old in a couple months, if I were a few years shy of 90 I wouldn't want to convene either, but maybe this should bring up a conversation about mandatory retirement ages for our leaders, what do you think?
Let us talk about the economy and unemployment for a minute, the economy has contracted at an annualized rate of 4.8%, and there were 3.8 million new unemployment claims last week, bringing the 6-week total to over 30 million.
Congressional Budget Office estimates that the unemployment rate could peak at 16% this quarter.
To put this in perspective, during the Great Recession a decade ago, the unemployment high was 10%.
However, the financial crisis of '07-'08 and the Great Recession of '07-'09 were caused by deep-seated issues in our country's banking, lending, and financial systems that had to come crashing down eventually.
This crisis is caused by a pandemic, a public health issue, very different from the underlying financial causes of the previous economic crisis.
So this might be stating the obvious, but I believe that we will bounce back from this very, very quickly, it will look different, of course, this thing we're all going through right now will change the world, it might change the way we conduct business and the way we travel and the way we do so many things, but I am optimistic, but obviously right now we are still very much deep in the dark, dark woods with 30 million Americans having filed for unemployment in a 6-week timespan.
And I know many of you are out there filing for unemployment, and it's been a nightmare, especially for those of you who are self-employed applying for PUA, and I know this isn't easy, I know states are way behind because there's a deluge of applicants, right.
Now, in some states, particularly the ones that are reopening, many of you are facing a tough choice.
If you're called back to work, of course, now you're no longer eligible for unemployment, right, because look, you have work available.
But what if you're not comfortable going back to work because you don't want to be exposed to COVID-19?
Well, unfortunately, at least according to federal guidelines released by the Department of Labor, general concern about being exposed to COVID-19 is not a good enough reason for you to stay home and continue collecting unemployment benefits.
However, if you have other reasons to stay home, such as you were advised by a health care professional to self-quarantine or you have to care for children whose schools are shut down, for example, you may still qualify for unemployment.
But as we all know unemployment is governed by the states, and State A may choose to interpret guidance from the Department of Labor and even the CARES Act itself, differently than State B.
So for those of you in a difficult situation like this, please, please hang in there.
Well, just briefly about small business here for a second, so in the relief bill passed last week, out of the $310 billion of funding for PPP, $60 billion was for small banks and lenders, OK, and yesterday for 8 hours the SBA briefly closed applications for the Paycheck Protection Program except for these very small lenders, and as expected, that $60 billion went like that, OK, and I suspect that the full $310 billion will go quickly as well.
Let us move on to questions.
[accordion id="35086″]