Stimulus Update 4/26/2020
If you'd rather watch than read, check out the YouTube version here!

First of all, if you have previously used the Get My Payment Tool in the past week, and it gave you confusing information, like the "Payment Status Not Available" message, please check it again, IRS did some critical updates on it the past few nights, and I've seen anecdotal reports that it is now much more helpful for some people.
So yesterday Richard E. Neal of Massachusetts, chairman of the House Ways and Means Committee — and remember, Ways and Means is the committee, or a committee, to which a future stimulus bill would be assigned to, and if released by the committee, it's put on the calendar to be voted on in the House — yesterday Representative Neal said, with respect to a future stimulus package, and I quote, "We believe that we will have a proposal in the next 10 days that we intend to put out."
Note: this doesn't mean that a future stimulus package will be passed in the next days, he's just saying that he believes that the House will have something drafted, some kind of unified proposal, at least on the Democratic side, and it could pull aspects in of all the proposed legislation we've talked about before, or it could be something completely different, I don't know.
Neal claims to be speaking with Speaker Pelosi "almost hourly" about the next stimulus package. So stay tuned.
So the IRS put out this table of stimulus data by state showing the number of payments made and the total stimulus payments made, added all together, by state.
Some news organizations had fun with this, made fun little maps showing the average stimulus by person, nothing too shocking, generally states with lower median incomes, the average stimulus per person is higher, nothing too crazy going on there.
Really the only mildly amusing thing about this is that the IRS totals in their press release are wrong.
Like if you add up all the states, they don't total to the IRS number of 88,183,614 for the total number of stimulus payments or the $157.9 billion for the total dollar amount of stimulus payments made.
Both of these figures at the bottom of this table here are missing the Alabama figures.
I don't think anyone else has picked up on this, I haven't seen this reported on in the media, I tweeted this to the IRS, but they don't care. I don't think they even check their Twitter account.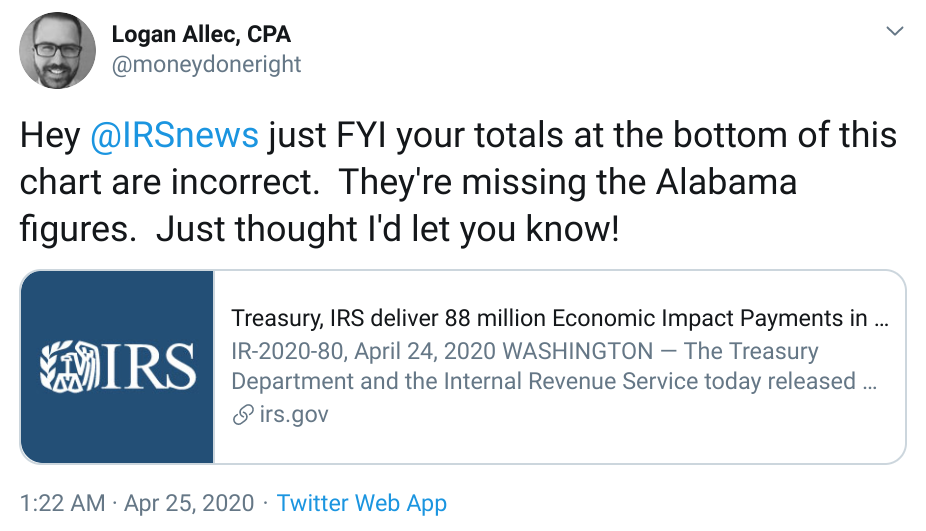 So including the Alabama figures, the actual correct number of stimulus payments made is not 89.4 million and the amount of stimulus payments made is not the $157.9 billion figure you see in the IRS press release and reported in the media, it's actually $160.4 billion.
And including Alabama, the average stimulus payment made nationwide so far is $1,792.
In addition to sniffing hair Joe Biden apparently also really likes stimulus and he also really likes the word hell.
He did an interview with Politico, published yesterday, and he said that the next round of stimulus needs to be, and I quote, "a hell of a lot bigger", he said it needs to include massive aid to states and cities or else they will be, and I quote, "laying off a hell of a lot of teachers and cops and firefighters," he said that the current administration is already, "wasting a hell of a lot of money," and he said that corporate America is "greedy as hell."
He also used some more colorful language that I will not repeat here because I want to keep this clean, but I'll leave the link in the description if you want to check that out.
And it's interesting, isn't it, we haven't heard a whole lot from Joe during this crisis, really, I mean, obviously he's not in Congress or anything, so he can't really do anything, but he can certainly say things if he wants to, he's been for the most part relatively quiet during this whole thing, you know Pelosi's really the front-and-center Democrat right now, like Joe, it's like, oh, Joe, what happened to ol' Sniffin' Joe, I don't know, he's kind of been out of the limelight during this whole coronavirus, so we'll see how that plays out for him.
And speaking of Pelosi, she got on the air and said we have to "think big," "think big" about stimulus, she's been talking a lot about funding for state and local governments, other Democrats have been talking about more direct cash payments, so we'll see.
Paycheck Protection Program loans, PPP loans, applications are opening up again tomorrow, I wish all you small business owners out there the best with your application, a lot of fintech companies getting into the game, and I covered this a few weeks ago.
Now, let me just say one thing about the Paycheck Protection Program. A lot of big, publicly-traded businesses who are clearly, clearly not the intended recipients for these PPP loans applied for and were approved for them and already received the cash when small businesses — the intended recipients of this money — have been left out in the cold.
These PPP loans to these huge corporations should have never been approved, these loans are for small businesses, not companies with thousands of employees like Ruth's Chris Steakhouse.
These SBA loans, with some extremely limited exceptions, are explicitly intended for businesses with fewer than 500 employees.
Companies like Ruth's Chris got around this because they have subsidiaries, Ruth's Chris Utah, Ruth's Chris Texas, and several others, and these separate entities themselves in isolation have fewer than 500 employees, they are part of this massive organization with thousands of employees.
Complete greed on these big corporations' part and the banks who approved these loans, and got paid a fee from the government for approving these loans, 1% for the big ones, over $2 million, 3% for between $350,000 and $2 million, and 5% for under $350,000, those are the banks' fees for PPP loans.
Banks raked in $10 billion in PPP processing fees, paid by the government, and that's the same amount that the relief act signed on Friday allocated to the EIDL grants, think about that for a second.
And there's no risk to the banks, these are these forgivable loans, and even a non-forgivable portion is 100% guaranteed by the SBA, so even if the business defaults, no skin off the bank's back, but they still make $10 billion, risk-free, what a great business, and apparently these banks are making so much money doing other things that they were dragging their feet to get into the PPP space.
My point is though that this money is for small businesses, not huge companies.
And of course you'll see these headlines that, they're giving the money back, Shake Shack, Ruth's Chris. They are not doing that because they're nice, they're doing that because it's clear that they got this money that they shouldn't have gotten in the first place.
Shame on them, shame on the greedy banks who approved these loans.
So keep that in mind when you read about all these companies "giving back" their Paycheck Protection Program loan money, they're not doing it just out of the goodness of their hearts, they are doing it because they got caught.
Don't get me wrong, I'm all about these large restaurant chains who employ thousands of people getting loans from the government, but not forgivable loans intended for mom and pop, they can get low-interest loans from the government that they have to pay back.
I'm fine as a taxpayer subsidizing essentially free money for small businesses around the country so our economy doesn't go kaput. I'm not okay as a taxpayer with subsidizing these nine-figure businesses, I mean, big business gets bailed out enough as it is, can't the little guy get one thing, just once.
[accordion id="35070″]
That is all for today, I wish you all the very best, I really hope that those of you on Social Security and SSDI get your stimulus this week, as well as individuals in other groups, non-filers and others, who are still waiting patiently, be sure to give that Get My Payment Tool another look, not saying it is perfect, but from what I understand after these updates the IRS made it is going to be more helpful to some people.
If it looks like you'll be getting a paper check, please check out my video on how to spot a fake stimulus check, and really a lot of that information in there has to do with really any check from the U.S. Treasury, other than Trump's name appearing of course.