Mnuchin Full of ?, FAQs, and Other Things
If you'd rather watch than read, check out the YouTube version here!

On April 19, 2020, Treasury Secretary Mnuchin was on CNN, gabbing out how great things are going with the stimulus and the Get My Payment tool.
Yes, millionaire hedge fund Mnuchin, and not by his own doing, mind you, his daddy was a partner at Goldman Sachs in charge of equity trading, and daddy also has a freaking art gallery in New York, Mnuchin Gallery, look it up, so yes, silver spoon Mnuchin was talking about how great the stimulus is going for everybody, for everybody on their last dime, you know, and here's what he said: "I'd just like to give a quick pitch for people to go to irs.gov and click on "Get My Payment." We've had five million people who have uploaded their instructions [speaking of direct deposit instructions]. We'd ask more people to do that," and later he said, "It's much safer to send out direct deposits" than to send out paper checks.
Dude, Mnuchin, are you tone deaf? Or do your little alcoholic IRS sycophants not tell you what's really going on?
How people did exactly what you supposedly want them to do, that is, go irs.gov and click on Get My Payment and input their direct deposit instructions.
And how people did that, and your little website that you "pitched" said that everything was good and it would be direct deposited, but then they go back and see that they're getting a paper check to be sent out on April 24.

And how people are seeing their social security number pop up where their bank account information should be in the Get My Payment tool.
And how some people can't even get that far because they're getting an error that says the IRS can't validate the information they're inputting.
And people whose spouse is behind on child support and they've always filed injured spouse, and their entire stimulus taken, not just the child support spouse's.
It's just stupid, and Mnuchin has the gall to get on CNN and talk about how great it's going.
Anyway, as I've talked about before the CARES Act does not prohibit your stimulus payment from being seized by private debt collectors with a garnishment order. However, some state governors are signing executive orders to prevent this from happening, Oregon, Illinois, Washington State, I'm sure we'll see others.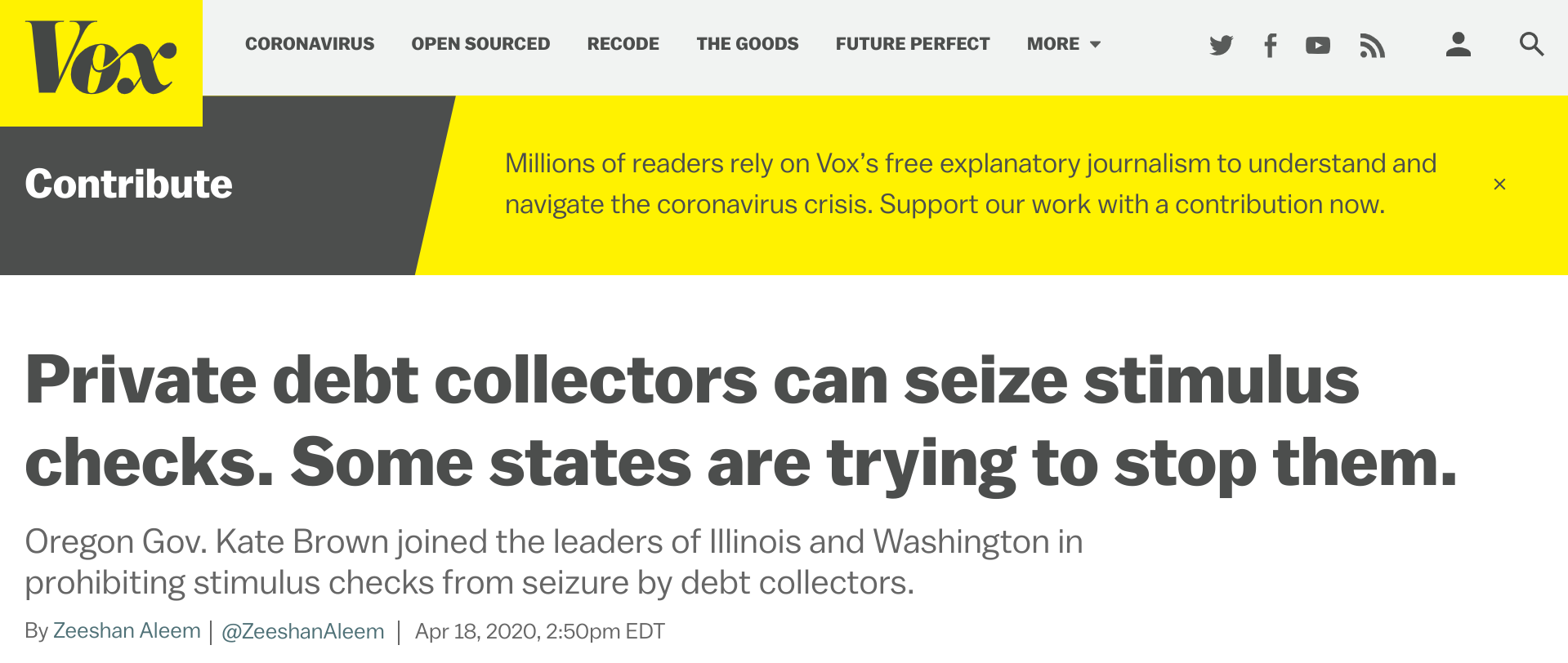 In other news, Congress is apparently close to agreeing, between Republicans and Democrats, on a deal that would infuse more funding into the SBA Paycheck Protection Program, that's the forgivable loan program, I did a video on that weeks ago.
And of course there's these funny stories about people getting millions of dollars for the stimulus on accident, you can go Google it.

[accordion id="35051″]