This is my stimulus update for Tuesday, April 14.
Before I get into the update, I want to let you know about something that's going to happen.
Later this week on my YouTube channel I will be publishing my interview with Michael Astrue, who was the Commissioner of the Social Security Administration during the last financial crisis.
I ask him about the role of and challenges faced by Social Security during scary times like this and ask him what lessons he learned during his tenure as Social Security Administration Commissioner during the Financial Crisis of 2007 – 2008 and the Recession of 2007 – 2009.
In addition to his service as SSA Commissioner in the George W. Bush and Barack Obama administrations, earlier in his career Mr. Astrue served in the Reagan White House and the George H.W. Bush White House.
Deceptive COVID Marketing and More
Now on to today's stimulus updates.
If you'd rather watch than read, check out the YouTube version here!
1. How Not to Do Marketing During a Pandemic
First I want to share with you an example of just terrible, disgusting, loathsome marketing tactics being utilized right now.
Now, what I'm about to share with you isn't a scam, but it's incredibly deceptive and boorish.
It just shocked me how low people will go at this time.
Take a look at this.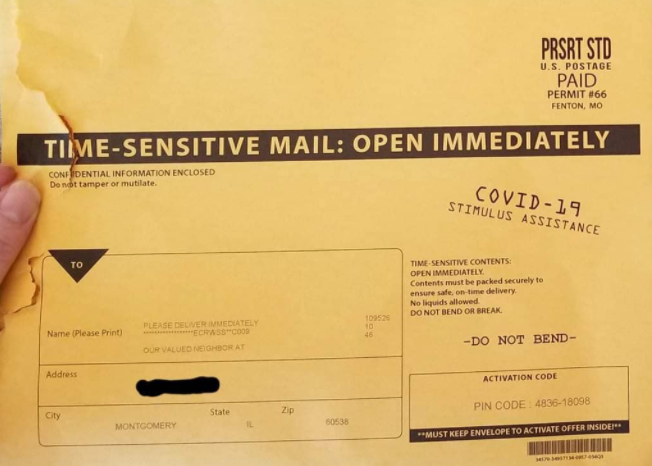 So first of all, this is to an untrained eye a potentially official-looking piece of mail, and it says in big, capitalized letters: "Time-Sensitive Mail: Open Immediately".
And then look, below that it says "COVID-19 Stimulus Assistance".  Now, if I saw this, and I wasn't well-informed about the stimulus timing, and I was very desperate right now, I might just suspect that this is my stimulus check or at least something to do with it.
And there's some other details on this thing that might suggest to me that this is an official piece of mail, there's a "PIN Code" at the bottom, it says, "Confidential Information Enclosed," etc.
So this is what one Jordan O'Shea from Illinois received in her mailbox.  This woman had just been furloughed from her job, she receives this, opens it up, and what does she find inside?
A stupid ad to a stupid sale put on by stupid Dempsey Chrysler Dodge Jeep Ram in Plano, IL.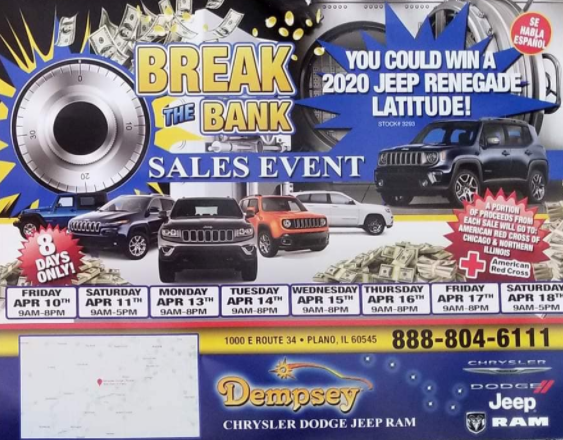 Oh, but you know, they're good people over there at Dempsey because they're giving a portion of their proceeds to the Red Cross.
Just disgusting.
And me being the petty person that I am, you'd better believe that I downvoted them and let them know exactly what I think of them on their Facebook page.
2. Alright, Let's Talk About What Mnuchin Said
Yesterday Treasury Secretary Mnuchin tweeted, and Treasury issued a press release, and then Mnuchin said at the press conference, that eighty million Americans will get their stimulus direct deposited tomorrow, April 15, these are the folks who filed a 2018 and/or 2019 tax return with direct deposit information on it.
We've gone over the timeline for the past two weeks now.
I told you all that Trump and his cabinet reportedly said on a conference call that April 15 was in fact D-day, and April 15 has also been widely reported since then, so Mnuchin's tweet and Treasury's press release and Mnuchin's statements at the press conference yesterday are simply confirmation of the timeline that we were already going off of.
But not everybody is going to receive their stimulus payments this week.  There are certain direct deposit recipients who may not receive their payment this week, and those expecting paper checks probably won't see their stimulus money for another few weeks at the earliest, and remember when they do start issuing paper checks, they're going to start with the lowest incomes first and move up from there, and as I said in my April 2 video, cutting all those checks could take months.
So please review my previous stimulus updates if you're not clear on the stimulus timeline.
And I know a lot of you are lucky enough to have already received your money and that others see pending in your accounts, so you're already in the loop here, but still I know there are others of you out there who may be pleasantly surprised tomorrow.
3. Next Thing, Mnuchin Said that the IRS Get My Payment Tool Will Launch Tomorrow
So during the press conference yesterday, Mnuchin said that the IRS Get My Payment tool will launch tomorrow.
We knew it would launch sometime this week, but Mnuchin said April 15, which is tomorrow.
So if you get your direct deposit tomorrow, you're good, OK.
But if you don't, you can use the Get My Payment tool to check the status of your payment and also give the IRS your direct deposit information if they don't already have it, and according to Mnuchin, "within several days the IRS will deposit the money into your account."
And I don't know what "several" means to Mnuchin, sorry, does that mean five or ten or fifteen, he's probably being intentionally vague there.
And as I stated in my April 11 update, in the Get My Payment Tool you will need certain information from your 2018 or 2019 tax return to authenticate yourself to update your direct deposit information.
You can check my stimulus update video from April 11 at the four minute, eighteen second mark to learn more about what information you will need to use the Get My Payment tool.
Mnuchin also reiterated that Social Security recipients do not have to take further action, but of course he did not mention anything specific to SSI recipients, which is the group we're all wondering about right now, along with veterans benefits recipients.
Mnuchin also mentioned the SBA's PPP program that I've talked about and the Main Street Lending program that I spoke about last week but there's wasn't really anything new in what he said yesterday.
4. Why Some States Are Behind With the $600
A lot of people are wondering, "Hey, when am I going to get my $600 extra for unemployment?"
Look, there is a different answer to this question for every state, OK.  Some states have already implemented it, some are rolling it out this week, and some are still lagging behind.
It's a different answer for every state.
Now, what is the holdup in some states?
The answer is technology.
Many of these state unemployment departments, as you might imagine, do not use the most up-to-date programming languages.
Now, they work fine, well, arguably fine, when everything is status quo.
But when something like the CARES Act comes in and changes things up — extra $600 per week, now you include independent contractors and self-employed — some states backend programming couldn't handle the changes.
And the trouble is that in many states the old programming language they use is called COBOL, which stands for "common business-oriented language," but it's a somewhat archaic programming language, and COBOL programmers aren't exactly the easiest to find because, according to some studies, the average COBOL programmer is 60 years old, that is, nearing retirement age.
However, in response to this crisis, IBM has said that they will be offering free COBOL training to teach the programming skills that states as different as Oklahoma and Connecticut so desperately need right now.