Sources Say Outline of Deal by Next Week
This is my stimulus update for Sunday, October 4.
Trump COVID-19 Diagnosis Update
Trump is still hospitalized, as I mentioned yesterday there is still some confusion about his condition.  Basically early on the White House physician Dr. Conley made it sound like everything was going fairly well, but then yesterday morning Mark Meadows told reporters that Trump's condition was "very concerning" between Friday and Saturday but now that he had improved a bit since then.
So Meadows and the White House physician seemed to contradict each other a bit.  Meadows was on Fox News last night and said that Trump did have a fever and his blood oxygen level dropped rapidly but now he's improved a bit and he is up and walking around.
And a lot of people in the White House, including Trump, are kind of pissed with Mark Meadows right now for leaking this information about the president's health.  Frankly, I wish that Dr. Conley was more forthright when he briefs the press, as a medical professional, rather than us getting this information from the chief of staff Mark Meadows, but that's where we're at on this fine Sunday.
But whatever the president's condition is, he tweeted yesterday in all caps, "Our great USA wants and needs stimulus.  Work together and get it done.  Thank you!"  Trump has also tweeted out various video messages stating that he is doing OK.
As for me, I continue to believe that Trump's hospitalization and quarantine have kind of taken the wind out of the sails of the notion that the president will be the stimulus savior here, I could have certainly seen that prior to his COVID-19 diagnosis, riding into the election, that perhaps he would be the one to take stimulus matters into his own hands, but I do believe his COVID-19 diagnosis has changed the dynamic here, as Pelosi said, and I think that there is now more pressure on Secretary Mnuchin to get a deal done with Speaker Pelosi and for Republicans to agree to it, or at least a handful of Senate Republicans to agree to it if Senate Dems get on board, because remember, we don't need every Republican senator on board with this.
If Senate Dems are all happy with the plan, you only need a handful of G.O.P. senators onboard, but like I've been saying, this is the Steve and Nancy show right now, Steve and Nancy need to come to an agreement before anything gets done, Meadows is at the president's side essentially right now, he's kind of out of the stimulus picture at least he was over the past week, Schumer really isn't involved right now, this is all about the Republican Secretary of the Treasury and the Democratic Speaker of the House.
Mnuchin and Pelosi Stimulus Negotiations Update
In terms of these negotiations, OK, according to an anonymous source for the Washington Post, White House officials believe, quote, "that they could secure at least the outlines of a deal by the middle of next week."  How they think this is possible is beyond me, given that the White House and the Speaker are still hundreds of billions of dollars a part, but granted, that's better than being over a trillion dollars apart.
And of course we still have Senate Republicans to contend with, many of whom certainly believe that Mnuchin's proposal on unemployment, for example, of $400 per week will encourage people to stay home rather than go back to work.
Based on recent reports it also sounds like Mnuchin may be willing to work with Pelosi on state and local funding as well, which is almost certain to receive Republican backlash as well because many Republican senators, right or wrong, have called additional funding for state and local governments "blue state bailouts."  But like I said, if Steve and Nancy do get a deal done, and Democrats are generally happy with it, then we only need a few Republican senators to get on board with the next stimulus package.
Congressional Update
Now, about the Senate itself, as I said yesterday, three Republican senators, Mike Lee, Thom Tillis, and Ron Johnson, are COVID-19 positive, they're out with COVID-19, so as of right now, the Republican majority is 50 to 47 in the Senate, and that 47  figure consists of 45 Democrats and 2 Independents who generally vote with Democrats.
House is out until after the election and the Senate is out until October 19th with McConell stating that only pro forma sessions will be held.  However, both houses can be called back at any time to vote on a bill if a deal is struck between the White House and Pelosi, there's frankly not much that rank-and-file members of the House and Senate can do right now in terms of stimulus, it is and continues to be the Steve and Nancy show.
Now, in terms of Amy Coney Barrett's Supreme Court confirmation process, the Senate Judiciary Committee will convene on October 12th to begin her confirmation process.  Mike Lee and Thom Tillis, who both tested positive for COVID-19, are on the Senate Judiciary committee and will participate from home.
Republicans are hoping that by the time Barrett's confirmation reaches the Senate floor, the three Republican senators who tested positive for COVID-19 lately will have tested negative and been symptom-free so that they can vote in person.
Stimulus Summary
So takeaway here for stimulus is that despite his hospitalization Trump is very much fixated on stimulus right now, and there are rumors in the White House that the "outline" of a deal could be reached as soon as the middle of this week, those are just rumors at this point, just anonymous sources, which are of course unreliable at times.
Unemployment Update
I don't really have any unemployment update on this Sunday morning, I kind of split out the October states into three groups with Kansas and New Jersey I'm expecting to pay out in early October; Alaska, Nevada, and Virginia in mid-October; and Wisconsin as late October.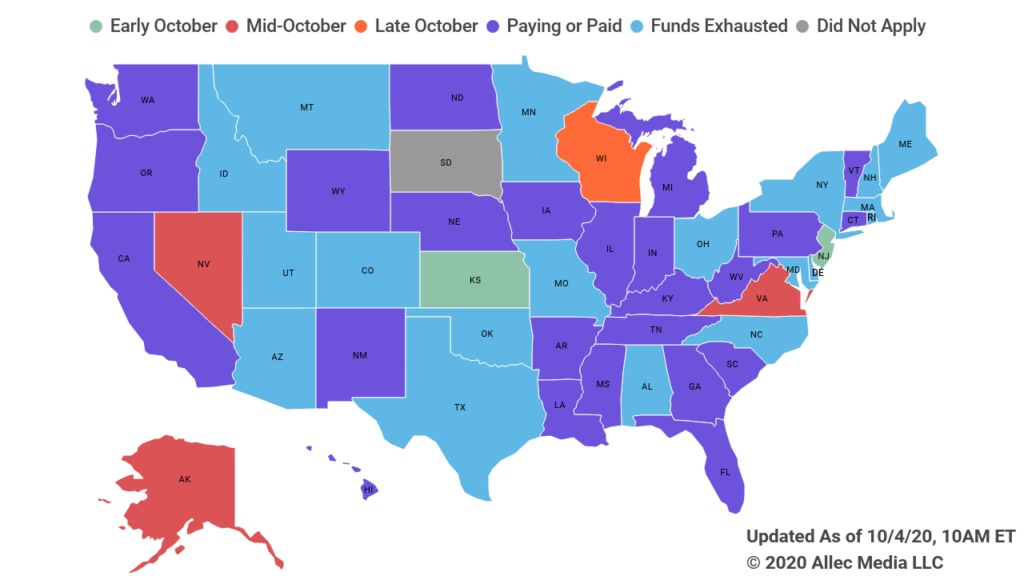 Again, this is just kind of my speculation based on things I've read and heard from state agencies, of course states change their own stated deadlines all the time, most recently for example Virginia, Virginia said they would payout by September 30, but end of September they changed it to October 15, so please don't crucify me over this map.