Schumer Thinks Republican Stimulus Plan "Emaciated"
This is my stimulus update for Thursday, September 3.
What Are Republicans Doing? (Skinny Bill)
Tomorrow the Labor Department will be releasing its August jobs report and next week the Senate will be back in session, likely debating the new Republican stimulus bill which has been reported to be as small as $500 billion.
So something that I have been musing about here, we have the $1 trillion HEALS Act, which is really a series of several different bills, and now we have the Republicans cobbling together this smaller bill that some have called a "skinny" bill, we saw a draft "skinny" bill a couple weeks ago from the Republicans, now they're working on something that may be a modification of that bill, from what it sounds like, or potentially an entirely different skinny bill, whatever the case, I'm not expecting the bill that Republicans are working on right now and will supposedly bring to the Senate floor next week to be materially different from the draft skinny bill we've already seen.
I've seen some other folks here on YouTube make a big deal about the Republican bill that will be brought to the floor next week, it's not going anywhere.  It's a messaging bill, it's not a godsend.
There will be a lot of ugliness and words thrown in Congress as the Senate comes back next week and the House the week after and all we can do is through it all cross our fingers that a deal will get done, but it's not going to be in the Republican bill next week, I'll tell you that much.
They're going even smaller than the HEALS Act, as small as $500 billion, could be more, but definitely not anything the Democrats would entertain, and today on CNBC Squawk Box Becky Quick asked Republican Senator Kevin Cramer of North Dakota why the Republicans are going down in dollars with this new bill, what's the point of that, here's the clip:
Becky Quick: From what I've heard, that skinnier package is something closer to half a trillion dollars. Normally when you're in negotiations with sides, you know, the side that's at the bottom comes up a little on the side that's at the top comes down a little you guys are taking the floor and cutting it in half. And you're saying that that is something that you think you might get consensus among Republicans. That sounds to me like we are a lot further away from getting any sort of a deal done between Democrats and Republicans.
Kevin Cramer: Well, that's a great point. You're exactly right, Becky. What we're doing right now is trying to find the polar position that we start with, obviously realizing that in a negotiation, and in a compromised situation, you probably gonna lose some Republicans on one side and some Democrats on the other side and the middle is gonna hopefully be big enough to pass something that's meaningful and that matters to people.
So what Senator Cramer said is that this bill is Republicans' attempt to find their polar position, their floor to start with.  Reading between the lines here, I think what's going on is that there still remains an internal division among Republicans with respect to more stimulus.  I think there are Republicans who are not yet sold on the $1 trillion HEALS Act.
They look at the deficit, they look at the new CBO projections from yesterday projecting a federal budget deficit of $3.3 trillion in 2020, more than triple the shortfall recorded in 2019.  That's more than twice the largest level on record and amounts to 16% of GDP, the highest ratio since 1945.
Schumer Calls Republican Bill "Emaciated"
So Republicans are still trying to find their floor within their own conference, they're trying to see if they can get their party behind a bill smaller than the HEALS Act to see if they can at least be unified on that, but will they even have the 60 votes necessary to take it to a final vote, I don't know, we'll have to see what happens next week.
And like I said, Democrats just won't go for this.  This morning Senator Minority Leader Chuck Schumer, the top Democrat in the Senate, wrote a letter to his Democratic colleagues stating, "According to reports, the Republicans are now moving even further in the wrong direction. In the upcoming session, Leader McConnell and the White House may cut their original, inadequate, $1 trillion 'skinny' bill in half. Republicans may call their proposal 'skinny,' but it would be more appropriate to call it 'emaciated.' Their proposal appears to be completely inadequate and, by every measure, fails to meet the needs of the American people. With no money for rental assistance, no money for nutrition assistance, and no money for state and local services, the census, or safe elections, Leader McConnell and Senate Republicans would be making another unacceptable and ineffective attempt at providing relief."
Here's the full letter if you want to read it for yourself.  I suspect we will see more words like this in the coming weeks as things come to a head not only to avoid a government shutdown but to provide relief for millions of Americans in another stimulus bill.
Also, yesterday Schumer along with Ron Wyden continued to criticize Trump's memorandum on the payroll tax as Senate Democrats continue to seek to overturn it, which they won't, of course, because they'd need Republican support to do so, which they won't get.
North Carolina Stimulus for Parents
Previously I mentioned the North Carolina stimulus check for parents, it looks like yesterday the North Carolina Senate passed a $1 billion bill that would give North Carolina households with parents of children 17 and younger a stimulus check for $335, ostensibly to help with the costs of remote learning.
This bill now moves from the North Carolina Senate to the North Carolina House of Representatives.
Unemployment Update
Today being Thursday, the Department of Labor released its weekly jobless claims report and for the week ending August 29, 881,000 Americans applied for jobless benefits.  If that number sounds low to you, that's because it is.
Beginning with today's report, the Department of Labor changed its methodology in how it adjusts for seasonality in the numbers.  Regardless though the fuller picture of what unemployment looks like in the United States will be seen tomorrow when the Department of Labor releases its August jobs report.
In terms of Trump's unemployment memorandum, yesterday FEMA approved Delaware for the $300-per-week grant.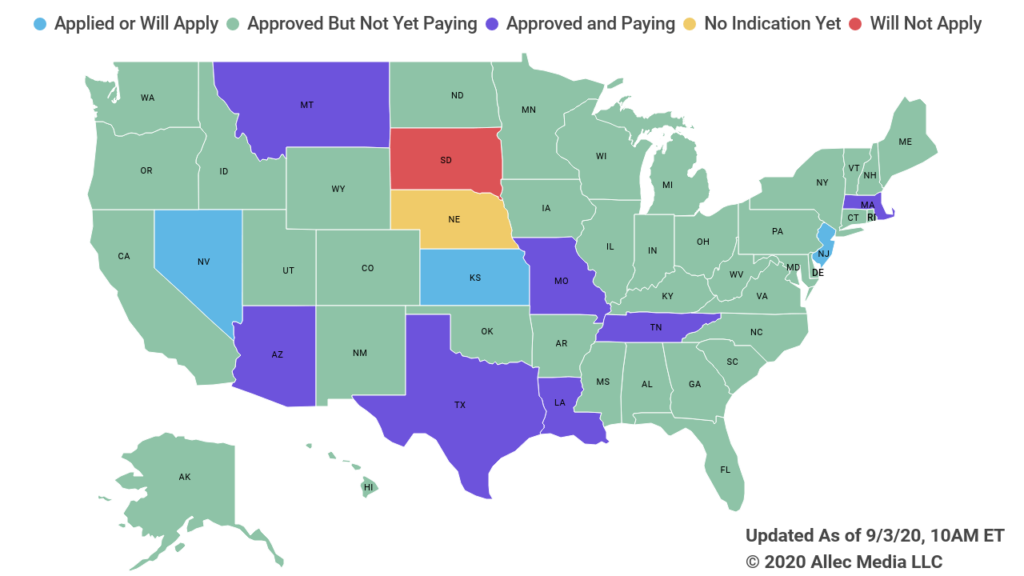 That makes forty-five states that have been approved with Nevada just submitting its application this week, Kansas waiting to hear back, and New Jersey, despite having submitted its application on August 26, still has not received approval, so it will be resubmitting its application today.  Washington, D.C. finally said this week that it will be submitting its application next week.  And Nebraska still hasn't indicated one way or the other if it will apply for a FEMA grant.
Massachusetts is expected to pay the retroactive three weeks' worth, or $900, of the boosted unemployment benefits to those receiving PUA this Saturday, making it the seventh state to actually start paying benefits, with those on regular unemployment receiving the boost by September 15.