Pelosi Rejects $1.8 Trillion, Trump Looks Desperate and Irrelevant
This is my stimulus update for Saturday, October 10.
So Mnuchin offered 1.8-trillion dollars to Nancy Pelosi in a 30-minute phone conversation yesterday.
What's different in this proposal, we're not exactly sure, but it's said to increase the funding for state and local government to $300 billion from $250 billion in the Mnuchin's previous 1.6-trillion-dollar proposal.  It's said to keep the enhanced unemployment at $400 dollars per week but for a longer period of time, into 2021.
And according to other sources, it will include $1200 stimulus checks, we know this, but what's new is that this new White House proposal appears to include stimulus checks for one thousand dollars per child.  This is just what a source for the Washington Post said.
So I don't know what that means for adult dependents, that's not clear at this time unless we see the actual proposal.  If I had to guess, though, I'd think that when this source said "per child," they meant "per child," not "per dependent" because Pelosi wants to expand the Child Tax Credit and make it fully refundable.
Right now the Child Tax Credit is for two thousand dollars for qualifying children, but you can only get $1400 dollars worth refunded to you so let's say you have a qualifying child, but your tax liability before credits is only $500, you might think, oh, the Child Tax Credit is two thousand dollars, I only have a $500 liability, so I'll get a $1500 refund, no that's not how it works under current law, only $1400 is refundable, but Pelosi wants to make the entire $2000 Child Tax Credit refundable.
But my point is it's thought that this $2000-per-child stimulus check proposal is the White House's counter to Pelosi wanting to expand the Child Tax Credit refundability.  So just some basic math here, family of four, two parents, two qualifying children, that's $4400.
One more thing of note about the stimulus checks in the White House's new 1.8-trillion-dollar proposal, the Washington Post is reporting that it would allow certain unauthorized immigrants to get stimulus checks, the Post did not elaborate on this, but I take that to mean that, well maybe the White House proposal takes away the Social Security requirement and says even if you just have an individual taxpayer identification number, an I-T-I-N, you're good.  If that's true, then Pelosi's been working them hard.
Nevertheless, Nancy Pelosi rejected the White House's 1.8-trillion-dollar offer here, calling it in a Dear Colleague letter, "one step forward, two steps back," I'll read you an excerpt here, Pelosi said, "On Friday, the Trump Administration returned to the table with a proposal that attempted to address some of the concerns Democrats have in the coronavirus relief negotiations.
This proposal amounted to one step forward, two steps back … At this point, we still have disagreement on many priorities, and Democrats are awaiting language from the Administration on several provisions as the negotiations on the overall funding amount continue."
In terms of specific things that Pelosi said the latest Republican 1.8-trillion-dollar proposal lacks, she specifically mentioned
the absence of a strategic plan to crush the virus as Democrats proposed in the HEROES Act,
a refusal to honor our heroes and respect safety in the workforce,which Pelosi ties to state and local funding because remember the updated HEROES Act does not have that hazard pay proposal that was found in the original HEROES Act.
This updated HEROES Act simply ties honoring our heroes to state and local funding, and Pelosi views the $300 billion in state and local funding in the Republicans' new proposal as inadequate.  Pelosi brought up the Earned Income Tax Credit and Child Tax Credit and Child Dependent Care Tax Credit, all things she wants to expand especially for those at lower income levels, and she said that the Republican proposal in not agreeing with her on these items is inadequate.
She said the Republican proposal's $25 billion for child care is inadequate compared to the HEROES Act's $57 billion, and of course she called the Republicans' proposal on unemployment, which is $400 per week as compared to the Democrats' $600 per week, inadequate.  Nevertheless, Pelosi and Mnuchin plan to work through the weekend on getting a deal.
And now let's talk Trump.  At 11:48 A.M. Eastern Time yesterday the president tweeted, "Covid Relief Negotiations are moving along. Go Big!"

And then later in the day on Rush Limbaugh Trump said that he would like to see a bigger stimulus package than either the Democrats or the Republicans are offering, which was just stupid, but what does he think he's doing there?
He's making himself look desperate to Democrats and irrelevant Republicans.  In fact, he's so desperate, that in less than 48 hours he went from, "No more stimulus talks!" to, "I really want a deal so badly, please, please, it's no one's fault, Pelosi wanted things, Republicans wanted things, Democrats are very capable, please, Nancy, please," and this gives Pelosi all the leverage frankly to reject a 1.8-trillion-dollar offer.
And not only is Trump making himself look desperate to Democrats, he's making himself look irrelevant to Republicans.  What, so Trump wants more than the Republicans or Democrats are offering, while, sorry, Trump, but your desire hasn't seemed to translate to your Treasury Secretary's proposal.
And it just makes him look irrelevant to Republican senators, who know that anything bigger than what the Democrats are pushing for wouldn't have a chance.  His words are meaningless to his own party, they're meaningless to Mnuchin, and they're meaningless to McConnell.
This is just desperation time for him and it's a bad look, and it's stupid that anyone would consider him a master negotiator.
Speaking of Republican senators, as for McConnell, yesterday he admitted that the country does need another rescue package but continued to say the same thing about the timing, he said it's unclear whether a deal would get done before November 3 and said that the Senate's priority at this time is confirming Judge Amy Coney Barrett to the Supreme Court.
Nevertheless, there are a few Republican senators who are in close Senate races who want stimulus, Senator Joni Ernst of Iowa yesterday tweeted, "Spoke to the President and relayed to him what I've heard from folks across the state: Iowans need additional COVID-19 relief. I'm hopeful Congress can come together once again — Republicans and Democrats — and provide more support to hardworking Americans."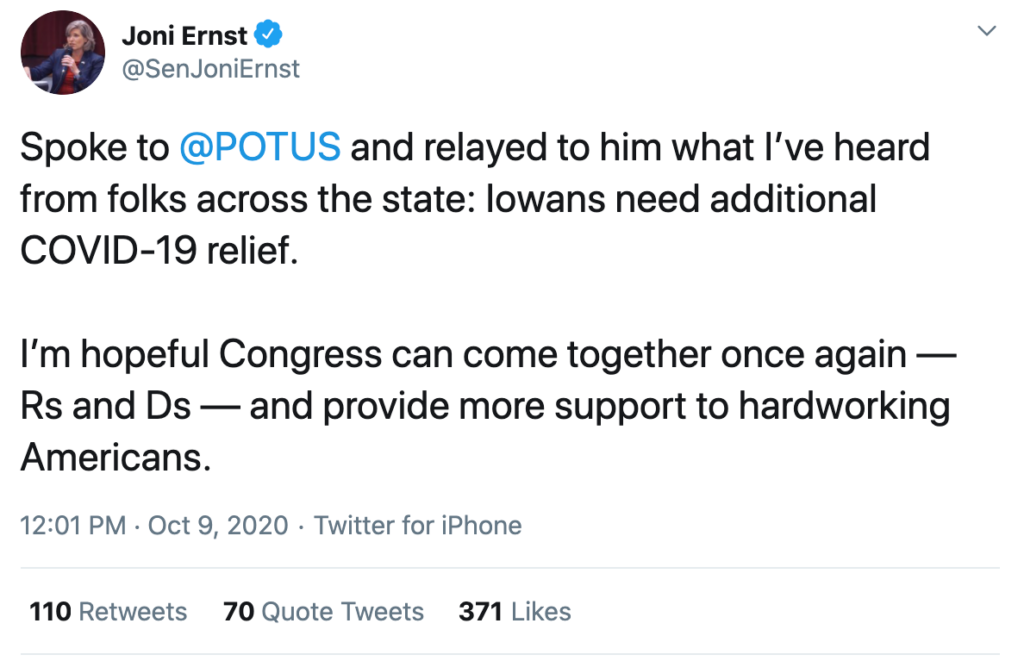 And finally, no,  I'm not going to talk about Larry Kudlow because he's completely irrelevant at this point, I'm convinced his job right now is simply to boost the markets.
That is my stimulus update for today, bottom line, no deal yet, Pelosi, whom Trump has given all the leverage right now with his desperate actions this past week, is completely comfortable rejecting Republican offer after Republican offer.