This is my stimulus update for Sunday, September 27. 
Pelosi on CNN State of the Union This Morning
Brief stimulus update, not too much to speak of, Pelosi was on CNN this morning, talking to Jake Tapper, Jake asked Pelosi about the status of stimulus negotiations, he asked her if she would be willing to go below $2.2 trillion dollars, which has been her lowest offer yet on second stimulus. 
And then Pelosi basically makes herself sound like a saint for going below $3.4 trillion to $2.4, $2.2.  And she said, "At some point, the public is going to have to see why $2.2 or now $2.4 trillion dollars is necessary." 
She's basically saying, "Well, we already went down over a trillion, now it's time for the Republicans to give a little," which is true, but coming down from a ridiculous figure isn't really saying much, Nancy.  It's like if I have an old car, and I can probably get $1500 for it, cash, but I list it for $3400, then somebody comes along and lowballs me at $500 bucks, and then I come down from $3400 to $2200, I'm still being unreasonable, they're still being unreasonable, neither one is a saint here, and going down from $3400 to $2200 is somewhat meaningless. 
Now, we know the White House is open to $1.5 trillion, according to Mnuchin. and that's "only" a $700 billion difference between that $1.5 trillion and Pelosi's lowest figure of $2.2 trillion.  But Senate Republicans and House Democrats are still really far apart. 
Nevertheless, Pelosi also said, "I'd rather have a deal that puts money in people's pockets than to have a rhetorical argument.  What we will be putting forth is a proffer to say, now let us negotiate within a time frame and a dollar amount to get the job done." 
And that's really the stimulus update for today, Pelosi views that the House will be putting forth next week in terms of a new stimulus bill as a viable offer to Republicans to resume negotiations.  If it's $2.2 or $2.4 trillion, as we think it will, that will be a guaranteed non-starter with Republicans.
Unemployment Update
Not really much updates there beyond what I went over at the end of my video yesterday, I saw some people say they had problems certifying with Virginia's Gov2Go app, but hopefully that's been resolved.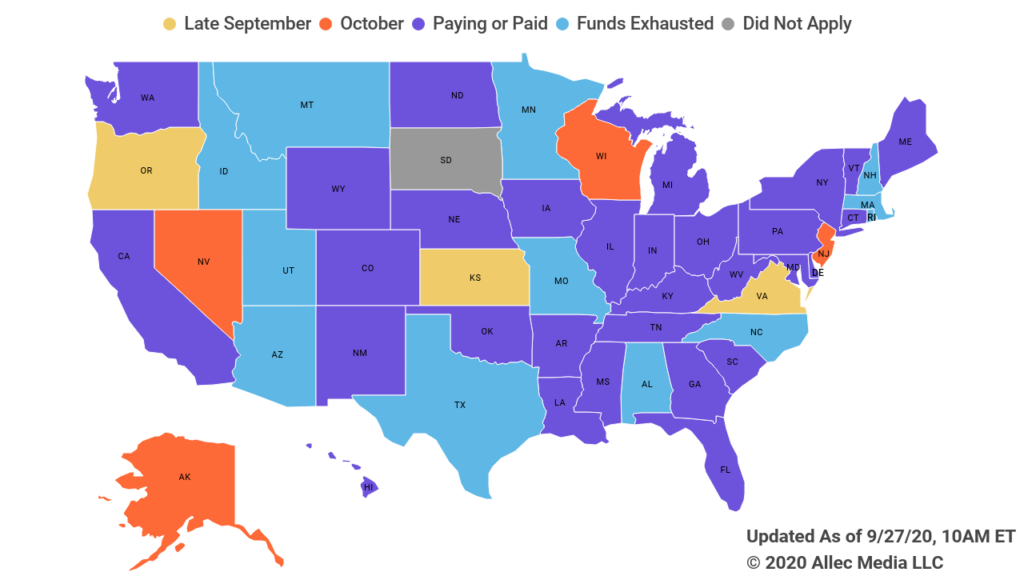 I've seen some reports of folks in South Carolina getting the full six weeks via paper check, while in other states like Hawaii payments are going out piecemeal, several states, Delaware hopefully paying out the other half next week, Colorado, still waiting for second batch of payments, New York I've heard many have received the full six weeks, hoping that Oregon sees the first three weeks this coming week, Florida many have received four weeks, and I hope to God that they do send out the remaining two weeks, but the pot is running dry, so not sure about that situation.