Pelosi Lists 5 Major Stimulus Disagreements
This is my stimulus update for Friday, October 2.
Earlier today, Nancy Pelosi released her five major grievances with Mnuchin's offer in terms of a stimulus deal.  This is what Pelosi and Mnuchin went over today during their phone call at 1:30 P.M. Eastern Time.
A deal has not been struck, but discussions will continue according to Pelosi's deputy chief of staff.  They had a 65-minute call today.
Trump's Positive COVID-19 Diagnosis
I'm sure you've heard, this morning at 12:54 A.M. Eastern Time, President Donald Trump tweeted that he and the First Lady have tested positive for COVID-19 and are quarantining together.  It is possible that the president and the first lady contracted the virus from senior counselor to the president Hope Hicks, who flew with him to the presidential debate in Cleveland this week, or possibly from whoever passed it to Hope Hicks.
White House physician Dr. Sean Conley stated in a memorandum that the president and first lady are both well at this time and that the president is continuing to carry out his duties while quarantined.  It is reported that they are experiencing "mild" symptoms at this time.  Pence has tested negative, and reports are this morning that Biden has tested negative as well.
Implications for the election are obviously that his campaign, at least in terms of live events, is now on hold at least in the short-term.  The next presidential debate is supposed to be held in less than two weeks, Trump would have to at least go a week without symptoms and show two negative test results before then, so that's really cutting it close, of course the debate could simply be postponed.
House Passed Updated HEROES Act
Stimulus news.  Just to catch you up, Pelosi and Mnuchin did not reach a deal in their phone call yesterday or in their phone call this morning, but negotiations will continue.  The House did pass the updated HEROES Act yesterday with a vote of 214 to 207; this was no surprise to any of us.  No Republicans voted in favor, and 18 Democrats voted against the bill, many of whom were the same Democrats that voted against the original HEROES Act, I made a video about those Democrats earlier this year.
About this updated HEROES Act, for example, Democratic representative Abigail Spanberger of Virginia, who voted against the original HEROES Act as well, said, "Today's package is another partisan exercise that will never become law — just as the Heroes Act never received a single vote in the Senate, let alone reached the President's desk.  The American people are exhausted by empty promises and government dysfunction."
The House is supposed to go into recess today until after the election, but of course they could be called back to vote on a deal if one is reached.  Now, as is obvious, this updated HEROES Act probably won't even be picked up in McConnell's Senate.
This isn't to say that a stimulus deal can't be reached, it just won't be this updated HEROES Act in its current form.
Effect of Trump's Diagnosis on Stimulus
Pelosi was tested this morning for COVID-19, results have not come back yet, Mncuhin's test came back negative by the way, and this is somewhat unrelated to stimulus but I thought you should know, Trump's Supreme Court nom, Amy Coney Barrett, was COVID-19 positive over the summer but has since recovered, anyway, back to stimulus, Pelosi believes that Trump's positive COVID-19 test, "kind of changes the dynamic [of stimulus negotiations] because here they [meaning the Republicans] see the reality of what we have been saying all along — this is a vicious virus. I'm optimistic, I'm always optimistic.  We always have to find a path, that is our responsibility to do so, and I believe that we will."  And White House Chief of Staff Mark Meadows said that one of the first things on the president's mind this morning was the status of stimulus negotiations, Trump was asking about them just hours after announcing his positive COVID-19 test over Twitter.
Now, I agree that Trump's COVID-19 test is kind of a gamechanger here.  The election is one month and one day away, this man at least in the very short-term, will not be able to go to his rallies, we will not be able to talk up his Trump cards for Medicare recipients, I'm not sure that he will be able to position himself as the stimulus savior right now, just from an optics perspective; he can't go anywhere live.
I would actually agree with Pelosi that Trump's COVID-19 test puts more pressure on Republicans to reach a congressional stimulus deal rather than waiting for executive actions from a quarantined president.  That is just my opinion.
Status of Stimulus Negotiations
And where are we with congressional stimulus?  Well, the White House's offer is $1.6-trillion dollars, I went over the details yesterday, and as far as we know Pelosi is still at $2.2-trillion dollars.
Pelosi views the White House's offer as laughably low, yesterday she called it not even "half a loaf" of bread, she called it "the heel of the loaf", and as you know Mnuchin has said that Republicans won't go for anything near $2.2-trillion dollars.  White House Press Secretary Kayleigh McEnany yesterday said that Pelosi is not being serious.
But McConnell was on Fox News late yesterday and for his part did say that he would evaluate any agreement that Pelosi and Mnuchin come up with.  McConnell said, "If they can reach an agreement I will take a look at it and see whether I can sell that to Senate Republicans."
Pelosi's Five Major Stimulus Disagreements
Now, let's talk about Pelosi's list of grievances.  This morning in a Dear Colleague letter Pelosi wrote, "Our negotiations with the Administration continue, and I am hopeful that we can reach agreement.  However, we still have significant disagreement in key areas.  Today, I am writing to report to you on where we stand on these five priorities:"
First priority, unemployment.  Pelosi wrote, "The GOP number does not measure up to the need that we both recognize, particularly as long-term unemployment rises and families are exhausting their benefits.  This is separate from our disagreement over the dollar amount for the enhanced unemployment benefit."  Just focused on that dollar amount difference, going back to our chart yesterday, Democrats want $600 per week, Mnuchin offered $400 per week.
Second, schools and state and local funding.  Pelosi wrote, "The September jobs report shows that 280,000 teachers and support staff have lost their jobs in the last month alone, with more than 800,000 fewer teachers and support staff employed compared to this time last year, overwhelmingly because of the coronavirus.  We have no right to salute our heroic frontline health care workers, police, fire, sanitation, transit and teachers if we do not give them the state and local funding needed to prevent them from losing their jobs."  Going back to our chart from yesterday, if you combine the state and local and education funding, Mnuchin is at $400 billion, while Pelosi is at over $660 billion dollars.
Third, children.  Pelosi wrote, "Essential to the well-being of America's working families is the Child Tax Credit and Earned Income Tax Credit.  In the original Heroes Act, we allocated to $149 billion, which we have cut to $57 billion in the updated bill.  The Republican proposal had zero.  We are hopeful that the Administration will join us at our level for the Child Tax Credit and Earned Income Tax Credit and are awaiting a response.  In terms of child care, we have $57 billion to their $25 billion, and are pushing them to come up to the higher level."  Pelosi spelled out the numbers here herself, so I'm not going to put them in spreadsheet form.
Fourth priority, testing and tracing.  Pelosi wrote, "Finally the Administration is coming closer to our number on the funds needed for the testing and tracing that science tells us is necessary to crush the virus.  However we have not yet reached agreement on the language, which is critical to ensuring that the Administration uses these funds correctly to stop the spread of the virus."  So if you look at healthcare in the chart here from yesterday, you see Mnuchin's at $175 billion compared to Pelosi's $249 billion.
And fifth and finally, appropriations.  These are things like money allocated to various federal agencies, it can be kind of a hodgepodge of things frankly, such as, for example from the updated HEROES Act, three hundred and $50 million for the John H. Chafee Foster Care Program, these are things that are kind of here and there, I don't really spend a lot of time on these in and of themselves they are relatively small potatoes compared to the big-ticket items, and they're not really applicable to everybody watching this, but Pelosi said in the updated HEROES Act there is one hundred and $45-billion in appropriations, and Mnuchin wants to cut that down to $100 billion.
So those are Pelosi's main areas of concern right now, she said there are other disagreements that they continue to work on.  But overall Pelosi is optimistic, as I said she thinks that Trump's COVID-19 diagnosis does change the tides a bit and she said this morning she thinks that she and Mnuchin are "coming to terms" on various aspects of COVID-19 relief.  But as for you and me, all we can do right now is wait.  I will note that in that list of differences that Pelosi listed, stimulus checks were absent, I think that just confirms what we've been saying for months now, that Republicans and Democrats are on the same page with respect to stimulus checks, they just have to agree on everything else at this point.
Unemployment Update
Unemployment fell to 7.9%, and the U.S. added 661,000 jobs in September, positive signs, but obviously the positivity has slowed in trajectory compared to previous months.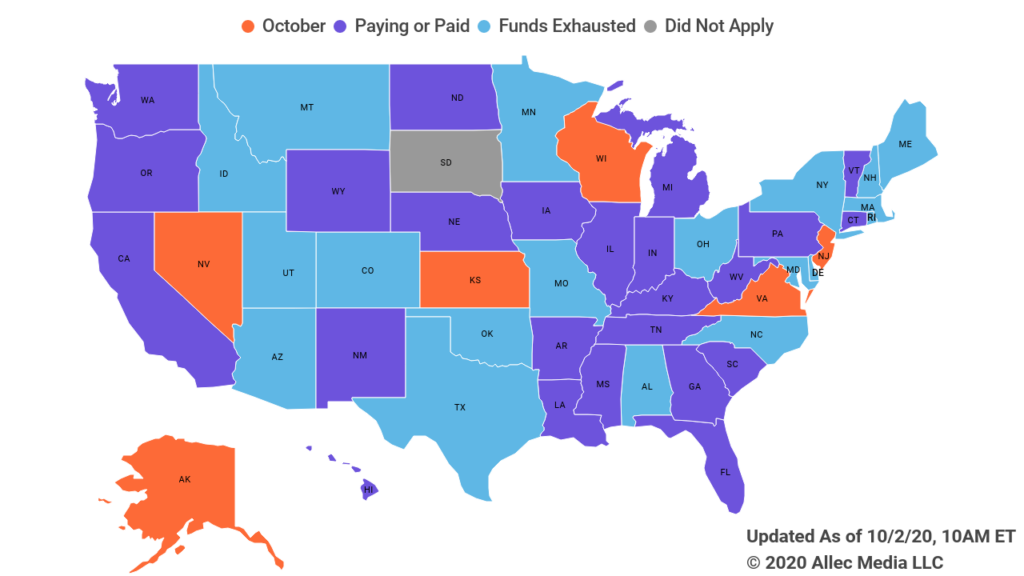 In terms of the Lost Wages Assistance Program, Kansas Governor Laura Kelly said that the Kansas Department of Labor will begin accepting self-certificating and processing payments to eligible recipients for the Lost Wages Assistance Program.  Still six states that have been approved that have not paid out yet, Alaska, Nevada, Kansas, Wisconsin, Virginia, and New Jersey, and of course South Dakota did not apply.