This is my stimulus update for Wednesday, September 30.
Just to recap my video yesterday, Dems have released their new stimulus bill, I went over the pertinent details in my video yesterday, it is $2.2 trillion dollars.  Pelosi and Mnuchin had a 50-minute call yesterday morning, Pelosi described this call as "positive," and the two will speak again today.
Mnuchin
Now, Secretary Mnuchin revealed some information this morning on the White House's counteroffer to the Dems' new stimulus bill, and here's the clip.
Becky: What's going to happen in terms of another financial aid package?  We've got millions of Americans who are out of work, we've got businesses small and large that are in crisis at this point through no fault of their own.  Will we see another financial package to aid them before Election Day?
Mnuchin: Well, the President and I are working hard on a bipartisan proposal, I spoke to Speaker Pelosi several times over the weekend, we had a conversation for about an hour yesterday going through different aspects of it, and I expect I will come back with her later this afternoon and will deliver a response so I think we'll have a very reasonable response, something that's very similar to what has been the bipartisan proposal that the Problem Solvers has worked on, and I hope we can get something done.
Well there you have it, Mnuchin said that the White House's response will be something like the Problem Solvers' proposal that was released two weeks ago, that's about a $1.5 trillion proposal that could potentially go up to something in the $2 trillion range because if you'll remember when we went over it here on the channel this proposal has automatic boosters in it such as a possible third round of stimulus checks next year, I don't know if the boosters are something the White House would seriously consider, perhaps they're just thinking something like the "base" Problem Solvers package if you will in the $1.5-trillion range.
Now, the problem is, as I said yesterday, even if Mnuchin, the White House, can negotiate Pelosi down to something in the neighborhood of $1.5 trillion, they still have to contend with the Republican-held Senate, which has given no indication whatsoever that they want to spend anything remotely close to $1.5 trillion.  And that's what Becky asked Mnuchin next on CNBC, here's the clip.
Becky: Even if you do reach an agreement with Speaker Pelosi, you still have the Republicans in the Senate who have been pushing back, and the demands they've put forth, the things that they'd like to see is a much skinnier package than the administration and the White House has put forth, they're looking to spend less than nine hundred billion dollars, how would you bring those Senate Republicans on board and have you spoken to any of them?
Mnuchin: Mark Meadows and I spoke to both Kevin and Mitch McConnell yesterday, we went through with them what our thoughts are and, you know, let's see if we can get a compromise agreement with the Speaker, something that works, and then we'll continue to work with both sides to work on all the exact language and the policies.
To be frank, folks, that's not the most reassuring answer to me, that doesn't make me feel like, "Oh yeah, Mnuchin's got this in the bag, he's going to negotiate Pelosi down, he's going to get the Senate Republicans on board."  But you know what?  Steve may surprise us.  Then Becky asked Mnuchin what details would be in the Republican offer, and Mnuchin rattled off some items, including stimulus checks, here's the clip.
Becky: Can you give us any idea of the scope of what is there in the middle ground?  I can guess at some of these things, what's targeted, what seems to have bipartisan support, I would throw out things like extending unemployment to some extent and raising that number, maybe extending some money for small businesses, potentially the airlines, making sure that this is targeted information, but can you give us any scope about the things that you've been discussing that you think are likely and that there is common ground?
Mnuchin: Well, first let me say that all the issue we worked with the Senate on on the trillion-dollar deal are in there, in many cases we actually have an agreement between the Republicans and the Democrats on what we want to do, but in certain cases the issue is really about the size and scope of how much we want to do, so there are certain policies where we do have differences, but there's a lot of commonality, things like the PPP has enormous bipartisan support, money for schools has enormous bipartisan support, we have additional direct payments, economic impact payments, which has support on both sides, we have back-to-work credits, we have retention credits, so I think there are many areas, you mentioned the airlines, we do support more money for the airlines, that's something that's critical to keep our airline workers together.
Pelosi
So that's Mnuchin's perspective this morning.  Now, let's talk about where Pelosi's at, she had her call with her Democratic caucus this morning, and to go over it all I'm going off of are these tweets from POLITICO House Democrats reporter Heather Caygle, because there's no article on this yet as of the time I'm recording this, but this reporter was on the call and tweeted off what Pelosi was saying live.
So Caygle tweeted that Pelosi was saying how the Dems are "closer" to the inauguration of Joe Biden — presumably she watched the debate last night and thought that Trump just made himself look like a mean bully — and Pelosi said "We will have our moment."
What do we make of this? Does this mean that she thinks that Democrats will sweep in the November election and that next year when everybody's inaugurated the Dems will have a chance to do the massive relief deal they're dreaming of that they want and maybe now they should just focus on getting something done, some kind of a deal with Republicans?
It's a bit cryptic, Pelosi's words, "we will have our moment," or maybe she was just referring to election victories in general, I'm not sure.
Now, after this apparently House Majority Leader Steny Hoyer said on the call that he'd like a vote today in the House on the Democrats' updated HEROES Act but the reporter was told that's only if there's not a deal struck between Pelosi and Mnuchin today.
Pelosi went on to say that state and local funding and liability protections — she's called those liability protections "poison pills" in the past — Pelosi said state and local and liability protections are the major divides right now. That said, as I pointed out yesterday and as this reporter points out right here in this tweet, Pelosi did go down to $436 billion dollars in terms of state and local funding in this updated HEROS Act, that's less than half of what was in the original HEROES Act, so that's something, now $436 would still be a very difficult pill for Senate Republicans, at least, to swallow, but we will see. So that's really what you need to know about second stimulus negotiations this morning, we're basically waiting to see the results of Mnuchin's and Pelosi's conversation today.
First Stimulus Reminder
Before we move on to unemployment, I want to give one final reminder to those of you on Social Security, SSI, SSDI, Railroad Retirement, VA benefits, who don't file a tax return,  and you're eligible for stimulus, and you have dependent children under the age of 17, today is the deadline to use the non-filers tool to report those dependent children under the age of seventeen to get the five hundred dollars for them.  Otherwise, you're going to have to file a 2020 tax return and claim them as a credit there.
Unemployment Update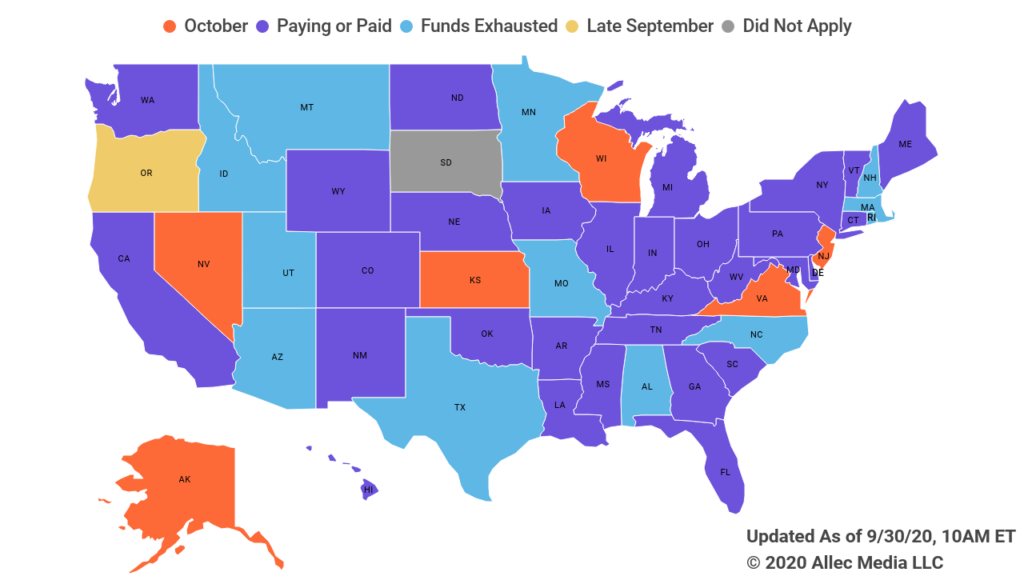 Oregon said yesterday that they plan to start issuing LWA payments today, September 30, I haven't seen reports of people actually getting the money in their bank accounts yet, so I'm leaving Oregon yellow on my map for late September, hopefully tomorrow when I show you this map it will be updated to purple.  Kansas, I was hoping for late September, but I haven't seen anybody reporting getting paid, so now the color has changed to orange on this map for October, and of course unfortunately as I told you earlier this week Virginia originally said it would pay by September 30, but they've moved that date to October 15.