Meadows Claims "Real Progress" Has Been Made
This is my stimulus update for Tuesday, September 1.
August's Accountability Report
Let's start with this, yesterday the Government Accountability Office released its August report on the initial federal response to COVID-19, and it stated that according to a Treasury official, "of the $1.6 billion in economic impact payments sent to [dead people], nearly 70 percent have been recovered" but that they were unable to independently verify that amount, hopefully we'll see more confirmation of what's going on with that in the GAO's September report.
Gallup's Poll On 2nd Stimulus Check
Gallup did a poll that was released today indicating that seven in ten Americans would support an additional stimulus check, with 82% percent of Democrats saying they would support another stimulus check but only 64% percent of Republicans and 66% of Independents agreeing with such a move.
And of those who think an additional stimulus payment is a good idea, 66% believe that the payment should be $900 or more.  This is a little bit confusing to me, why not put forth $1,200 or more as an option since that's the actual number that's being proposed.
Gallup also asked those currently on unemployment, "OK, what if the federal government extends the supercharged unemployment benefit to $150 weekly, presumably beyond the Trump memorandum?  If this happened, if the federal government extended the enhanced unemployment to $150 weekly, would it be very likely you would return to your old job or just somewhat likely?"  And then they asked the same for $300 a week and $450 a week.
No matter the dollar amount, over 80% of those on unemployment said that they would be likely, either very likely or somewhat likely, to return to work at those dollar amounts.
Again, would have liked to see $600 a week here as well since that's what it was previously under the CARES Act and what Democrats proposed in the HEROES Act, but maybe they felt that was too political a question, I'm not sure.
Mark Meadows On CNBC
This morning White House Chief of Staff Mark Meadows was on CNBC this morning talking to Kayla Tausche, and he used the words "real progress" with respect to stimulus negotiations.
Meadows said that Trump wants him and Treasury Secretary Mnuchin to "get as creative as we can w/in the confines of the law to put forth as much money to make sure that we keep this economy going," which could possibly mean more executive actions.
Kayla on CNBC asked Meadows about the Democrats' negotiations approach, which has apparently been to say to Republicans, "OK, let's agree on a top-line number, like $2.2 trillion, and then once we've agreed to a top-line number, we can fill in the details later."
Meadows said that he flat-out rejects this approach, he believes that it is backward and not workable, he said that the way to go is bottom-up, say you want $500 billion here, $300 billion there, rather than just agreeing to some top-line number and backing into it later.
Nevertheless, Meadows said that "real progress" has been made in discussions with both Republican senators as well as Democrats on Capitol Hill, he did confirm as we've said previously, that aid to state and local government is the biggest difference between Democrats and Republicans right now.
And then Kayla asked him a great question that I don't think has been asked so directly of the Republicans, she directly asked him, "OK, Mark, you and the rest of the G.O.P. have said that Pelosi's $900 billion plus, almost $1 trillion, is too much for state and local, well OK then, how much is a reasonable number then to you Republicans?"  Here's the clip.
Kayla: What is the number on that specific line item that you think the President would get on board with that could also secure the Republican votes in the Senate to pass? Is there a number that you're discussing behind closed doors?
Meadows: Well, we actually have talked about giving great flexibility for the $150 billion that was allocated in the previous CARES Act, in addition to another hundred and 50 billion that would go there, which would, overall give 300 billion in terms of flexibility and additional funds to state and local, which should represent the actual loss that we see if you take the GDP reduction that we've experienced over the last quarter and based on projections now, that should indicate about a $275 billion loss in revenues. That's what we're trying to address. Secretary Mnuchin has been very clear that he's willing to look at the facts, and right now, it doesn't need to be a bailout as much as it is just an additional help to provide some stability to those local governments that have lost revenue during this unprecedented time. That being said, you know, we're making real progress with some of the Democrats on Capitol Hill. They've had some very thoughtful recommendations that we've actually been able to have real discussions behind closed door, and I think Leader McConnell and Senator Barrasso have had mentioned, the Senate Republicans will be returning they've been working around the clock each and every day we have a call to talk about where we can find consensus there. I expect them to pass a bill or at least put forth a bill in hopes of getting to that 60 vote threshold sometime next week.
So what Meadows is saying is that Republicans are willing to give states another $150 billion in new funding plus more flexibility in how they use the $150 billion Coronavirus Relief Fund that was allocated to the various states through the CARES Act.
Wait just a minute though.  Republicans, in Trump's memorandum on unemployment, were also expecting states to use any remaining funds in the $150 billion Coronavirus Relief Fund to pay out that extra $100 weekly in unemployment, and several states said, "We don't have it, boss."
So Meadows is saying $300 billion, but it's really only $150 billion in new money with additional flexibility in how states are using their Coronavirus Relief Fund money.
Meadows said that this figure better represents the actual reality of the revenue loss that states are suffering according to Republicans' math based on GDP loss, I mentioned this yesterday that I thought this is what the Republican strategy would be.
And there at the end there Meadows said that he expects Senate Republicans to officially put forth if not pass their stimulus bill, probably referring to their skinny bill, next week.
Mnuchin said the same thing yesterday, he said, "Hopefully Mitch [referring of course to Senate Majority Leader Mitch McConnell] will enter new legislation next week."
And Meadows and Mnuchin had a conference call with Senate Republicans this morning, as is their routine, and this morning Senate Republican Conference Chairman John Barrasso of Wyoming said the goal is in fact for the Senate to vote on the Republicans' skinny bill next week when the Senate is back in D.C.
Republicans' Skinny Bill Happening Next Week?
He said, "We have a focused, targeted solution that we hope that the House would pass and the House would agree to."
Obviously the House will not consent to this skinny bill that based on the draft we've seen and reports in the media appear to be in the ballpark of $500 billion, that's half a trillion dollars, woefully low in the eyes of Democrats, it's just a messaging bill, like the Democrats' HEROES Act, so Republicans can say they're doing something.
So bottom line is this.  Neither party has given up on stimulus and stimulus negotiations.  Is the outlook great right now?  No.  But the notion of another stimulus bill remains clearly top of mind for people like Trump and Pelosi and Mitch and Mnuchin and Meadows.
Secretary Mnuchin does have his hearing today in the House about stimulus relief, but now let's talk briefly about state stimulus relief.
California's Eviction Moratorium
So last night, shortly before midnight, in my home state of California, Governor Gavin Newsom signed into law an eviction moratorium that takes effect immediately.
I expect that if a true federal eviction moratorium is not agreed to soon that we will see more and more of these responses from states.
Unemployment Update
Yesterday, North Dakota was approved for the FEMA grant, bringing the number of approved states to forty-one.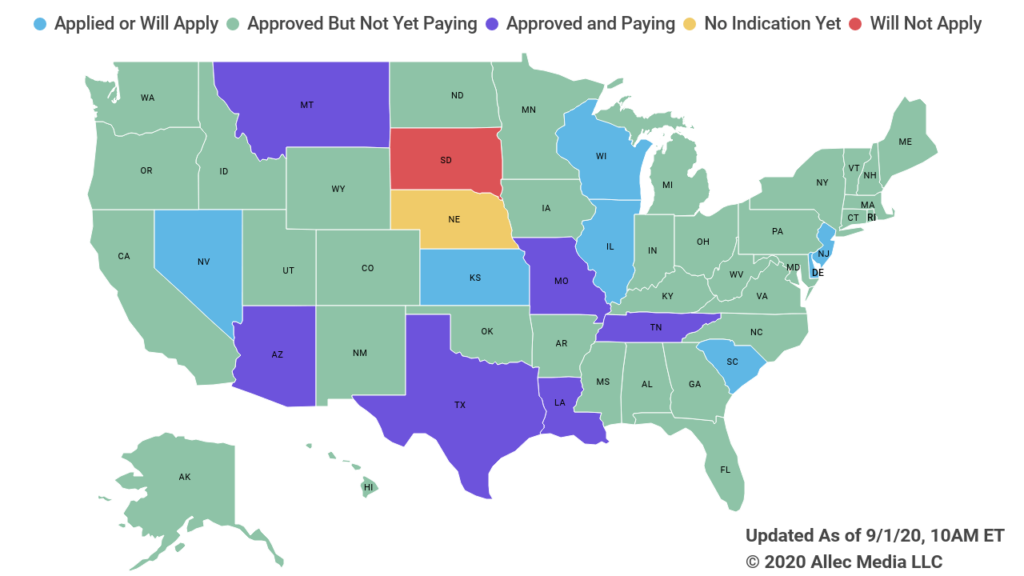 Nebraska has still not budged, with Republican Governor Pete Ricketts stating yesterday that he is "still doing [his] analysis" on whether or not it's the right move for the state.