Ex-Fed Wants More Stimulus
This is my stimulus update for Sunday, August 30.
Potential for Double-Dip Recession Without More Stimulus
So Dennis Lockhart, the former president of the Federal Reserve Bank of Atlanta, said yesterday that he believes a double-dip recession is possible without more Congressional stimulus.
He said, "If things go badly with the management of the virus and there's more cascading … then yes, it's possible we have a double dip. I don't think that's probably the base case, but I think it's still possible."
See, when it comes to stimulus, there's new ways to go about it, one is called monetary policy, that's the Fed setting interest rates, the other is fiscal policy, which is Congress spending money on things like stimulus checks and unemployment to stimulate the economy that way.
And Lockhart went on to say, "If there's going to be an effective effort to really ward off a worst-case scenario, particularly for portions of the American public that are most vulnerable, then it's going to come from the fiscal side," meaning Congress.
State of the Stimulus
Speaking of Congress, just to catch you up where we're at if you're new, Congress is not currently in session, the Senate comes back on September 8 and the House on September 14, they do have Committee Work Days the previous week, but there are no new stimulus checks being confirmed at this time, we have some people who were overlooked for the first stimulus checks finally getting their original stimulus checks, and we also have unemployment starting to roll out to individuals in various states, and I will give my unemployment update at the end of this article.
But negotiations for a second stimulus check, an extension of the federal eviction moratorium, extension of the unemployment after Trump's unemployment memorandum ends, negotiations on all these things that I know matter immensely to many of you are still at, in Pelosi's words, a "tragic impasse."
Potential North Carolina $200 Stimulus for Parents
States are trying to do their part though.
For example, North Carolina state legislators are proposing sending stimulus checks of at least $200 to parents of school-aged children to offset costs of virtual learning and COVID-19 concerns.
This money would come out of CARES Act funding allocated to the state.
Unemployment Update
States have been busy applying for FEMA grants to pay out $300 weekly, and frankly most of these payments will probably just be lump-sum payments for three or four weeks, and yesterday FEMA announced that three additional states — Minnesota, Florida, and Hawaii — were approved for their $300-per-week grants, bringing the total number of approved states to forty.
And remember, these grants are only for three or four weeks depending on the state, but states can apply for more after those initial grants are exhausted, but remember the fund is limited, and who knows if recent natural disasters across the country will significantly diminish the effect of Trump's unemployment memorandum in some of the states that are slow out of the gate.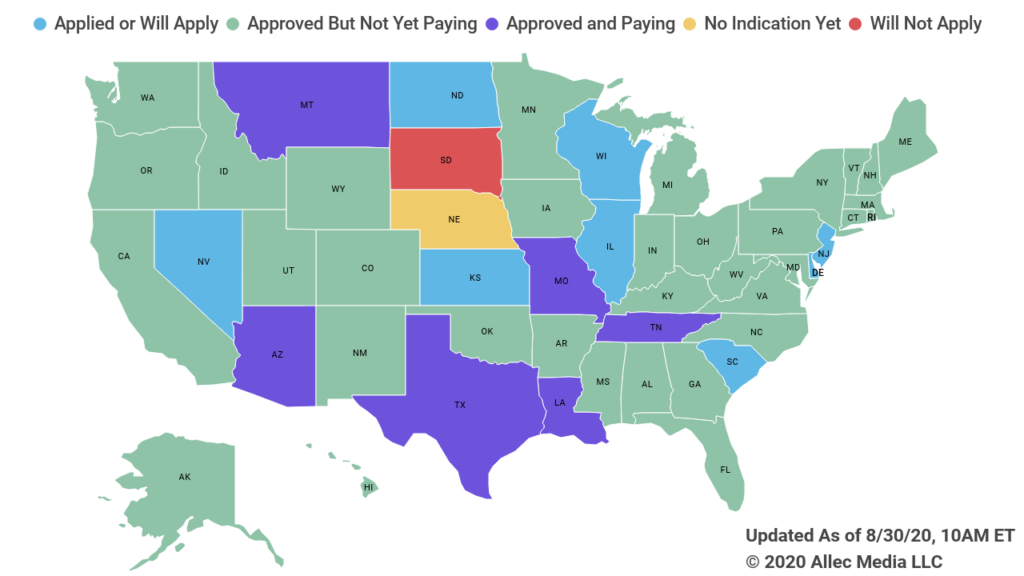 Meanwhile, Montana has announced that it is paying $400 a week, obviously $300 coming from the FEMA fund and Montana kicking in an extra $100 weekly for its eligible claimants.
We still haven't heard anything from Nebraska regarding whether it has applied or will apply, leaving it the only state that has not taken a position.
That leaves eight states — Delaware, Illinois, Kansas, Nevada, New Jersey, North Dakota, South Carolina, and Wisconsin — as the only ones that have applied or indicated they will apply that have not been approved by FEMA.