If you've been following the Biden campaign, you might have seen some of his recent policy announcements. Thursday, July 9th, he gave a speech covering his plan for the American economy, which has obviously been struggling in light of the pandemic.
Trump and Biden on "Buy American"
One thing that stands out in Biden's speech in his focus on American manufacturing, American jobs, American products, American workers—American everything, really.
We're used to hearing "America first" from Trump, so it's striking to hear that language from the other side. In fact, Biden's "Buy American" language exactly mirrors a 2017 Trump executive order called "Buy American and Hire American" which set requirements for federal agencies to prioritize American contractors rather than outsourcing taxpayer-funded projects.
So are Biden and Trump really saying the same thing here?
What's the Difference?
Well it's not quite that simple, and there are some key distinctions to make between what Trump means by "America first" and what Biden has in mind with "Buy American."
Of course these plans are both designed to support American interests, but they actually do that in very different ways.
This article will cover their respective views on nationalist politics in terms of both foreign and domestic policy, and we'll take a look at what that means in terms of specific proposals.
"America First"
"America First" has been one of Trump's slogans since his first presidential campaign in 2016. This was largely in the context of foreign policy on things like NATO, the Paris climate agreement, and the Iran deal.
His idea was that we were giving up too much in these agreements for the sake of international relations. Trump wanted to be far more aggressive and use our economic leverage to push for our own interests, and that's generally what he's done in his first term.
So for example, we can see this in a Trump tweet about NATO: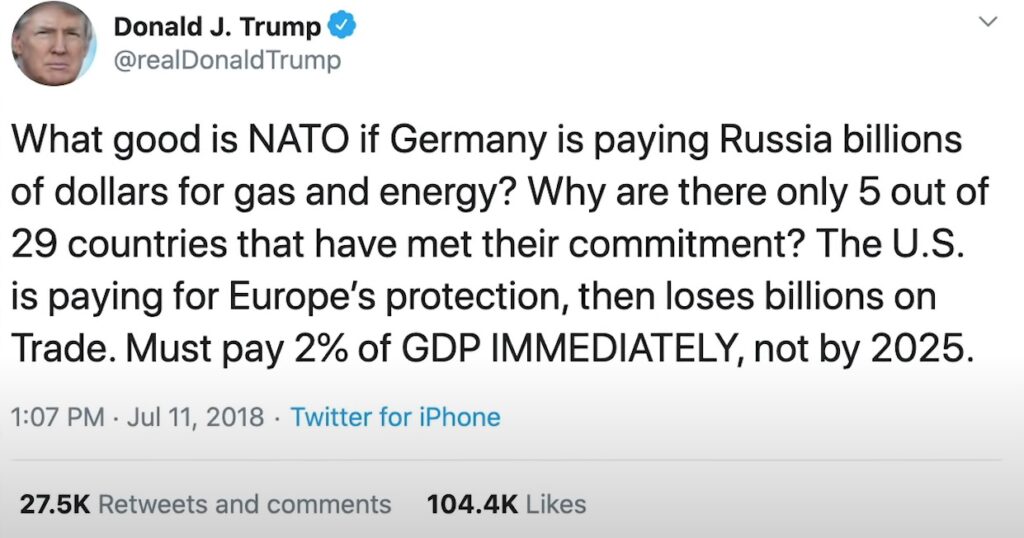 Now, the typical D.C. politician might go the route of applying some gentle pressure to get these countries to pay their fair share given that NATO plays a role in stabilizing foreign policy over the long term, so they would tolerate putting in a little extra for the greater good.
But ever the New York businessman, Trump wants to play hardball and demand better deals. This was a relatively new tactic when he came into office in 2017.
The House of Representatives actually voted in 2019 to prevent him from using federal funds to withdraw from NATO by a margin of 357-22, so Trump's hardline approach to treaties is still unorthodox in both parties.
This popped up again recently when Trump withdrew from the World Health Organization. The US had been the largest source of donations for the WHO, so under the circumstances this was highly controversial.
Trump and Biden on International Cooperation
Of course you can say that we weren't getting enough in return for our contributions, and that could be a fair perspective.  But on the other hand, there is something to be said for staying involved in global public health during a pandemic, especially when the US is having trouble containing the coronavirus. We had the opportunity to lead an international response through our funding and World Health Organization employees, and withdrawing will only reduce our global influence in public health.
So this illustrates a really important difference between Trump's "America first" and Biden's "Buy American." Trump really wants to "win" each agreement.
He wants to be able to say the US is getting a great value for what it's contributing. He wants a deal!  And he wants it today, to help America today.
Biden sometimes has different priorities. He wants to use American influence for global leadership, maybe he'll even be OK with putting in more than we get out if it means we can possibly make a difference and perhaps have more global influence in the long haul, which is a gamble in and of itself.
What Does Biden's "Buy American" Really Mean?
As mentioned earlier, what we know about Biden's "Buy American" proposal comes from his July 9th speech on the economy.
He talked about his general plan to rebuild the economy following the pandemic. The plan is called "Build Back Better," and it comes with a strong focus on American jobs.
Some of the ideas match or even build on what Trump developed in 2017 in terms of directing federal agencies to work with American contractors.
Biden and the American Working Class
Just looking at the language on Biden's campaign website, it's clear that he's aiming for working-class voters. The plan covers collective bargaining, prevents businesses from illegally classifying employees as independent contractors, and makes sure companies don't have quite as much power to stop workers from organizing.
It's not quite what you would expect from the far progressive wing of the Democratic party a la Bernie or AOC, but you can tell he's moving more in that direction, he's not fully embracing those ideals but he is listening to that chunk of the party.
So even though they have different strategies, Biden and Trump are both advocating for American manufacturing over, say, Chinese manufacturing. They both want to focus on American workers in these tough economic times.
Outsourcing isn't necessarily a problem on its own, particularly when outsourced jobs are being replaced by more desirable jobs in the US, but you really need those jobs to come back if you want to get the economy back to normal.
Creating Jobs During COVID-19
Now some of this is just the usual response to an economic crisis, so that's why you're seeing a degree of bipartisan support recently for stimulus checks, maybe beefing up PPP, and other measures in response to COVID-19.
Obviously there will be some differences in terms of the specific ways to go about that, but most politicians on both sides know that we need to invest in domestic jobs during times like these.
The main difference here is that Biden won't be as aggressive as Trump with respect to international cooperation, especially when it comes to Europe. He might push for a stronger response to China or Russia, but again that's going to come down to a case-by-case evaluation.
Trump and Biden—More Similar than They Seem?
All things considered, Biden is actually following Trump's lead in many ways on this issue. While Trump is struggling in the polls, it's not as clear that voters are opposed to his economic policies.
YouGov recently released a new poll that shows the divide between the economic and social sides of Trump's administration. Now, all these polls should be taken with a grain of salt given the results of the 2016 election, but nevertheless this poll found that even though only 40 percent of voters planned to vote for Trump, he actually had a 48 percent approval rating with respect to the economy.
A lot of people pointed to working-class voters as one of the reasons Trump won swing states like Michigan and Pennsylvania in 2016, and Biden obviously knows how important that demographic is.
So he's a lot closer to Trump on this point than on some other issues, and it wouldn't be surprising for him to continue with that approach if he wins the election. You can see him trying to counter Trump's America first rhetoric by showing that Trump isn't really the best option for American workers.
The Build Back Better Plan
Now I want to take a look at some of the specific proposals mentioned in Biden's economic plans.
His "Build Back Better" policy comes with, quoting from his website, "four bold, national efforts to address four great national challenges." Those four efforts are, again from the website,
Mobilize American manufacturing and innovation to ensure that the future is made in America, and in all of America.
Mobilize American ingenuity to build a modern infrastructure and an equitable, clean energy future.
Mobilize American talent and heart to build a 21st century caregiving and education workforce which will help ease the burden of care for working parents, especially women.
Mobilize across the board to advance racial equity in America.
These are obviously intended to be pretty dramatic measures compared to what the Democratic party might have gone for during the Obama years, so Biden is pretty clearly going for more of a left-wing vision of nationalist economic policies compared to Trump's isolationist strategies.
More details about these proposals are on another page from Biden's website called "The Biden Plan to Ensure the Future Is 'Made in All of America' by All of America's Workers."America comes up twice even just in the title, so the language is really about co-opting some of the support for Trump's America First economic policies and again, this is an issue where many voters continue to favor Trump over Biden.
Building on Trump's Policies
So first, Biden appears to broadly agree with what Trump put forward in the Buy American, Hire American executive order. He actually wants to make those terms stronger in some ways.
Some of the key proposals here are developing stricter requirements for products marketed as "made in America," closing loopholes that allow federal agencies to work with foreign contractors, and strengthening American shipping along with manufacturing.
Building the Working Class
Another aspect of these ideas that stood out to me was the focus on workers who may be disadvantaged in some way and trying to level that playing field.
Again, there's a lot to parse through here, but Biden's plan involves reducing the concentration of capital in a small number of major cities, allocating more funding to female and minority manufacturers and entrepreneurs, and removing barriers that make it more difficult for people to get steady jobs and fair wages.
So this is very much a plan for the working class, who greatly contributed to Trump's victory in 2016.
Trump's Response
Now, there were rumors that Trump's team was considering some of these policies in May and June, for example by requiring the federal government to only purchase American medical supplies.
This order never ended up coming through, so Biden's new plan might force Trump to come out with something similar in order to counter some of that momentum.
At this point it's tough to speculate on how Trump will respond or what his economic policies will look like if he wins the election. Sean Hannity actually asked him about his second-term plans, and frankly Trump didn't have a good response, here's the clip:
Hannity asks him a softball question, one that you'd think the sitting President would have a pitch-perfect answer to, he asks him, "What's at stake in this election and what are your top priority items for a second term?"
You might think that Trump should knock this one out of the park, this is like your elevator pitch for why Americans should put you back in the White House, but Trump bungles it, he rambles about talent being more important than experience, how he'd only been to Washington 17 times, never slept there mind you, and all of a sudden he finds himself galavanting down Pennsylvania Avenue with Melania, and of course Bolton is a dumb-dumb.
And then Hannity bails him out by interrupting him with a question about John Bolton.
Now, just to be fair here, Biden can be equally incoherent when pressed for answers, and it's not quite apples-to-apples to compare a scripted speech or a strategically-crafted portion of a campaign website with a response to the kind of on-the-spot question that was posed to President Trump.
But nevertheless, this is the kind of question that sitting Presidents should have an answer to, and it is a bit concerning that Trump frankly had no answer to Hannity's child's play question.
So it's possible that Trump's team will come up with an America First plan to match Biden's proposals. But right now, America First isn't a cohesive vision of the next four years, and it seems that Trump completely flopped when given the opportunity to spell out that vision.
He hasn't announced many concrete second-term plans at all, and it's hard to say at this point how he will actually be putting America first in terms of public investment.
Biden, on the other hand, has come out with a plan and a promise for the next four years in terms of American manufacturing.  But the beauty of campaigning is that you can make all these promises and not discuss how exactly you're going to pay for them?
This is to say that even if you want to support American manufacturing, the reality is that somebody is going to have to start counting the trillions at some point to see what really makes the most sense for the American economy. But again at least he has ideas on paper and a clear vision of the future, which is why we've seen voters start to come around to his economic message over the past few weeks, and we'll see if Trump responds in kind.